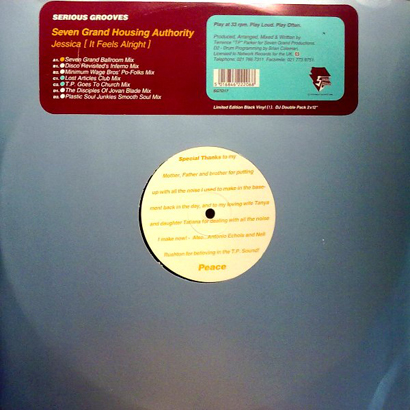 Forgotten Treasure: Seven Grand Housing Authority "Jessica" (1994)
This records had many life and it's still around 19 years after it was originally released. A new very limited re-issue is just about to drop on My Love Is Underground. But if you're a die hard digger, you'll want the original double pack 12″ and it's seven remixes to choose from on Serious Groove records out of Detroit.
Now let's go back in time. Detroit is often associated with Techno around the late 80's and early 90's. The city also had a very vibrant house scene. Both movement were actually walking hand in hand at the time. Terrance Parker has to be one of the most prolific producer of that era on the house spectrum, gaining major respect overseas, especially in the UK. Deep bassline and HUGE piano riff were his trademark.
Using different aliases, this track was produced and remixed by him. What makes this mix special is that he took a break of the piano oriented track he was known for and he created a deep hypnotic key line that totally kills it on top of that beat that really hits, especially on the right sound system… And with that churchy vocal sample, it has ANTHEM written all over it!!!
A timeless jam in the making, you can still hear it regularly and it's still sounds like it was released last week…
Seven Grand Housing Authority - Jessica (The Disciples Of Jovan Blade Mix)