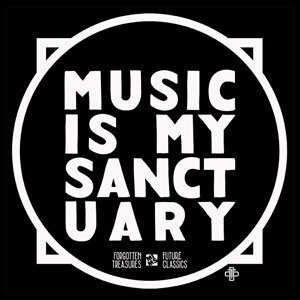 Music Is My Sanctuary – 50 tracks for 2010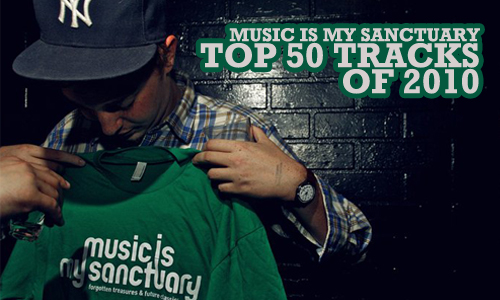 Ok, so I totally wussed out of making this list into a podcast. Reason #1: I've been playing some of these tracks so much in DJ gigs and one year worth of podcasts that I wasn't super motivated to play them yet another time. Reason #2: Picking the list was just so hard that by the time I actually sat down to do it, it was already Dec 30th….
So anyyyway. This could have been a top 250 but here are the top 50 songs that I played the most this year!
50. Chris Brown "Deuces"
Ok, I had to fit that one in. It's my guilty pleasure of the year…
49. The Roots "How I Got Over"
Yeah, the Roots will probably never get back to the "Illadelphalflife" for me but they still remain by far the best live act in Hip-hop. I thought the record was a little above average but I like this cut a lot.
48. Skream "Field of Emotions"
Skream's record was a very anticipated release this year and although there was no real anthem on the album it did show a lot of progress for one of the most important figures in the dubstep scene. I like this track a lot, not peaktime dancefloor material but I still love it.
47. Grace Jones "Love you to life" (Digital Mystikz Remix)
Deadly Grace Jones remix from Mala and Coki aka Digital Mystikz. This is like a dubstep tango. Emotional!
46. Floating Points "Peoples' Potential"
Young phenom Floating Points had a more productive 2009 than 2010 in number of releases but this EP was still a very dope track played by every major tastemaker worldwide.
45. Matt Shadetek "Lilly of the Valley"
Matt Shadetek's record was probably my favorite "bass" record by a North American artist this year. It had a few tracks that are just undeniable dancefloor burners like this one.
44. Black Milk "Deadly Medley"
I personally always thought that Black Milk was kind of overrated and the fact that he actually named his record "Album of the year" didn't help… but I can't lie this joint is deadly!
43. Dorian Concept "Her Tears taste like pears"
I got this track from the great Ninja Tune 20 year compilation. Nowadays there are sooo many tracks in the abstract fidgety 8bit style coming out that it can be hard to find the gems. But Dorian Concept's productions are always worth checking out. Dope.
42. Kidkanevil "ZoOoOoOp"
Love this little odd 2 minute track from Kidkanevil. Got this from the Jus' Like Music x Apple Juice Breaks compilation.
41. Gil Scott-Heron ft. Mos Def "NY is Killing Me"
Gil Scott-Heron definitely had the comeback record of the year. That record is from the heart and very cinematic. "NY is killing me" has a few different remixes, the one from Jamie XX is pretty dope, also check out the one featuring Nas. But Gil Scott-Heron + Mos Def is the one for me.
40. Scuba "You Got Me"
I loved Scuba's 2010 record Triangulation and also the remix album that went along with it. 2010 saw tons of great people merging successfully the worlds of techno and dubstep. (Shackleton, 2562, Martyn and Scuba to name a few…)
39. Sepalcure "Love Pressure"
I absolutely loved this EP from Sepalcure, it has this perfect blend of old school garage/2step feel and the new school post-dubstep thing (à la James Blake and Mount Kimbie). Sepalcure is a duo formed by Praveen Sharma and Travis Stewart aka MachineDrum who had a great year. Check out Machinedrum's "Many Faces" EP. Dopeness.
38. Endgames "Ecstacy" (Jam City Remix)
This is just one of the tracks that you heard on Rinse FM, BBC Radio non-stop from all the big time UK Funky Dj's. I had to pick at least one track from the Night Slugs label which had an absolutely huge year with key releases from people like Girl Unit, Bok Bok, Kingdom, Jam City and so on…
37. J-Live "The Way that I Rhyme"
Just love this jam from J-Live. The chorus with the Rob Base "It Takes Two" sample is just undeniable. I'll still be playing this in 10 years.
36. Ramadanman "Glut"
I could say just put pretty much every track that Ramadanman aka Pearson Sound and put it in this list. Arguably the producer of the year. He had a ton of bangers but I have to go with this one. Muslimstep!
35. Erykah Badu "Fall in Love"
Miss Badu released the fifth record of her thirteen year career called New Amerykah Part Two (Return of the Ankh). "Fall in Love" is produced by Karriem Riggins and is based on a Eddie Kendricks sample that has been used in tons of classic R&B jams.
34. Zinc ft. Ms. Dynamite "Wile Out"
Zinc, one of the most respected veterans in the garage, bass and breaks scene released this riddim in 2009 as "Blunt Edge" and what a genius idea to release this as a proper single with Ms. Dynamite. Top quality "crossover" track that everyone from Londontown to Montreal played over and over!
33. Deadboy "If U Want Me"
Another huge label in 2010 was Glasgow's NUMBERS. Countless key 12's to choose from Doc Daneeka, SBTRKT, Lazer Sword, Rustie, Slackk, Roska, Untold and on and on… Deadboy is also a guy that a huge year (I also loved "U Cheated").
32. Seiji "Yesman"
Really great to see Seiji still doing his thing in 2010. For those who don't know him, he was a member of London crew Bugz in the Attic. West London Broken Beat royalty! Seiji has been giving out tons of amazing tracks for free this year, I suggest you subscribe to his Itunes feed. "Yesman" is on that proper rave warehouse thing, with those undeniable shuffly drums!
31. Alex B "You & I Both Know"
A lot of people totally slept on this record from Alex B. Taken from the "Moments" record on Elm & Oak label this track is just pure fire in every possible way!
30. Sharon Jones & The Dap Kings "Better Things To Do"
Sharon Jones and the Daptone family released a very solid record this year and this was the jam for me. Perfect "you done me wrong" type of soul track. Made in 2010, sounds like 1971… and will still be good in 2090!
29. Mosca "Square One" (Roska Remix)
Another guy who had an absolutely huge year was Roska. His record out on Rinse is without question the landmark record for the UK Funky scene. It's easy to release one 12″ single, but to make a full record that is dancefloor oriented is not easy. Roska also had an insane amount of dope remixes, including this one which does it for me everytime.
28. Curren$y "Chilled Coughphee" ft. Devin the Dude
Didn't really know Curren$y before this year but apparently he's been part of the No Limit family since the early 2000's. He released two full records in '10 (Pilot Talk 1 & 2) both pretty impressive. Lovin this track with Houston's Devin the Dude. It's got that real lazy southern swag.
27. Def Chronic "Apple Juice"
A track I discovered on the very dope website called MOOVMNT. Don't know the artist, don't know where the hell the track came from but it's just so damn catchy!
26. Kanye West "Runaway"
There are a few tracks I could have picked off that record ("Devil in a new dress" is also fire) but I had to pick this epic-esque track. I mean, the chorus kills me everytime! "Let's have a toast to the douchebags!"
25. Mophono's Halftone Society "Bumps"
Got this track off the great LABEL LOVE compilations. I played this track at the ONRA show in Montreal and about 10 people asked me what it was. Love it.
24. Big Boi "Hustle Blood"
It was great to see Big Boi reclaim the crown of the south this year. That record was packed with dope tracks like Shutterbug of course but for some weird reason I'm always drawn to this borderline cheesy track produced by Lil' Jon of all people!
23. Slum Village "Get Dis Money" (IG Culture Remix)
IG Culture is another veteran of the nujazz-broken beat scene still doing very well. This unreleased Slum Village remix always gets the attention of the hip-hop heads when I play it. Love the bassline that sounds like its backwards and underwater. Proper meeting between Detroit and London!
22. Take "Neon Beams"
We had the pleasure of having TAKE do a show in Montreal this year and it was a really cool one! People need to pay more attention to this guy. His 2010 record called "Only Mountain" (AlphaPup Records) is on some next level shit! "Neon Beams" is the most dancefloor effective track on there.
21. Flako "04500"
Flako is a really interesting Chilean producer that caught my ear these last few years. He makes that abstract-bleepy beat thing but keeps it very organic at the same time which is not always easy. There were a few tracks I loved from him this year but this one is cool because it bridges vocal-driven soul and that tougher abstract beat feel.
20. Altered Natives "God Made Me"
One of many tracks I could have picked from the countless productions from Danny Yorke aka Altered Natives. His sound is just the perfect mix of old-school warehouse house and new school UK riddims. Guys like AN, Roska and Karizma are keeping house very interesting for me these days!
19. Mount Kimbie "Carbonated"
Of all the shows we put together this year this one was by far the most successful in terms of just the amount of people going nuts. We packed 500 people in a 350 people venue and Mount Kimbie just lived up to the hype. Big time. "Carbonated" is one of the most dancefloor friendly jams on the record. I played this one in podcasts and pretty much every DJ gig.
18. Games "Heartlands"
GAMES is a duo made up of Joel Ford (Tiger City) and Daniel Lopatin (Oneohtrix Point Never). Just love the celestial approach to 80's boogie. For fans of The Chromatics, Todd Terje and Oneohtrix obviously.
17. FIS-T "Nighthunter"
Absolutely looove this UK Funky anthem. I first discovered it through my Montreal friend Bowly this summer and have been rinsing it ever since. 2010 is the year that UK Funky really crossed over into the mainstream with artists like Katy B but it's good to hear tracks still repping the underground!
16. The Left "How We Live"
The Left released the "Gas Mask" record and it is really one of the most slept on hip-hop records on the year for sure. The track is produced by Appollo Brown and is just that real shit!
15. Uproot Andy "El Botellon"
POIRIER, my Montreal homie put me on to this track that is just nuts. Uproot Andy also killed it on a couple of different tracks and remixes this year (the Amadou & Mariam is nuts). This is just an instant party starter!
14. Alaclair Ensemble "J'tanné d'attendre"
So proud of these guys! Alaclair Ensemble is a next-level hiphop collective from Montreal and Quebec city who put out the best rap record in the history of our province. I could have picked about 6 tracks to put on this list but I guess I'll just pick a random one and go with this one. It's an ode to waiting for the night bus after a show in the harsh Montreal winter. Real talk.
13. Kassem Mosse "No Peace No Love No Unity"
Awesome awesome midtempo techno track from Kassem Mosse one of my favorite techno artists. The sound of a pitch black room and a light flickering in the distance…
12. Flying Lotus "Computer Face"
With "Cosmogramma" Flylo really put on the turbo boosters and flew by pretty much every one in the beat scene. There are a ton of really interesting tracks on the record but I'm gonna go with the one I played out at gigs the most. No one makes electronic music quite like Flying Lotus, he is the perfect mix of Aphex Twin and Dilla.
11. Letherette "Furth & Myre"
This UK duo signed to Alexander Nut's (Rinse FM) Ho_tep Records really blew me away with this track coming from an all-together outstanding EP. Awesome 80's Boogie with that cut-up broken feel to it. Legen… wait for it… dary!
10. Dj Day and Yosaku "The Bottle"
Got a vinyl copy of this in NYC at Turntable Lab and it is just a pure dancefloor burner. On paper yet another remix of this Gil Scott-Heron classic didn't interest me that much… But. The beefy latin drums and rhodes keyboard courtesy of Dj Day and Yosaku are doing it for me!
09. James Blake "Limit to your love"
As much as 2010 was an absolutely huge year for James Blake with a few classic EP's and remixes there is a chance that 2011 could be even bigger for him. If he lives up to the hype. I also wanted to pick "CMYK" but I can't front on anyone who attempts to cover an accoustic Feist song and knocks it out of the park! Post-post-post dubstep indeed.
08. Seu Jorge and Almaz "Everybody Loves the Sunshine"
I didn't even have to listen to this track to know that I would absolutely love it. Brazilian Seu Jorge covers the classic Roy Ayers track and takes it to a next level.
07. Onra "Long Distance"
Wow talk about a track I've played a shitload of times! Come to think of it, I probably DJ-ed every track from that record at least once! By far my favorite 80's Boogie Funk & Soul revival album. The whole record makes me want to jump in a 1983 Trans Am, drive with leather gloves and a jheri curl.
06. Moodymann "Ol' Dirty Vinyl"
Ok, so this track probably wasn't made in 2010 but it was released this year so I'm putting it in the list ok!? This is taken from an EP featuring unreleased tracks from my favorite house producer. Actually it's a tie between Moodymann and Pepe Bradock. This is just… just… well check it out.
05. Aloe Blacc "I Need a dollar"
Forget Cee-Lo's "Fuck you" this is THE definitive soul anthem of the year. And like any anthem we all got a bit tired of playing it and hearing it. But this track will live on and still be great in 20 years from now. Essential.
04. Brassroots "Good Life"
I am a big fan of cover versions, especially when the cover version is in a totally different genre than the original. This is hands down my favorite cover this year. It is a big dancefloor Dixie Jazz version of the classic house track "Good Life" by Inner City. Gilles Peterson played it this summer and I completely lost my shit! So after months of looking for it I finally found it! Dancefloor juju!
03. Breach "Fatherless"
Amongst all the amazing releases this year , this is the UK Funky track of the year for me. I am pretty impressed by the fact Breach is actually an AKA of soul signer Ben Westbeech (he was the first artist signed to Brownswood Records).  The record is just the right mix of tropical flute and oh so heavy drums!  (The Doc Daneeka Remix of this is also a must!)
02. José James "Warrior"
I interview Jose James this summer when he released his sophomore record called "Blackmagic". I asked him about the record and the track he was telling me the most about was "Warrior" which is a cover version of Benga's "Emotions" track. How great is it that the next great voice in jazz is covering dubstep tracks! NEXT LEVEL
01. Maddslinky ft. Omar "Special"
2010 was a really great year with really great musical moments, and an insane amount of crappy ones too. This is my track of the year. First off, Zed Bias aka Maddslinky is one of my all-time favorite producers in the UK Garage world. When I read that his next record was going to be on Tru Thoughts I was really intrigued because TT is known for eclecticism but from a very organic perspective. Well the result was very mature and soulful approach to UK bass music. "Special" is just one of those timeless dancefloor classics that the best DJ's will still be playing in 2020 and kids will still run up to the DJ booth to ask what the track is… It's Zed Bias son!!!