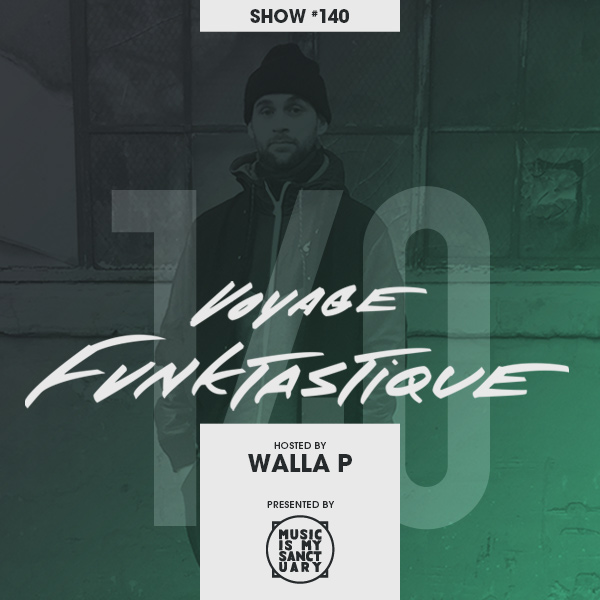 VOYAGE FUNKTASTIQUE – Show #140 (Hosted by Walla P w/ guest Professor Groove)
120 minutes of the Funk comin' at ya!
For this week's show, I had the almighty Professor Groove, 1/2 of Wefunk Radio, dropping an eclectic funk set, and doing what he does best. There's also some new material courtesy of XL Middleton, Kei-Li, Kay-Bee, Ivan Makvel and SaiR. Hope you enjoy this episode. Stay Funky!
TRACKLIST
Mission – Show A Little Love
KEI-LI x falcxne – Bounce
Ivan Makvel – Slow Bouncers
Kay-Bee feat. Tinman – Kali
Moniquea – Already Done That
SaiR-Underwater
Rocket – Here Comes My Love (Remix)
Clifford Coulter – Don't Wanna See you Cry
The Manhattans – Crazy
Keith Patrick – A Night To Remember
XL Middleton – In The Middle Of The Night
Professor Groove's Set
Travis Biggs – Tibetan Serenity
Mtume – Hips
Brian Ellis – Hidden Valley Cruisin' (Demo)
Pleasure – Space Is The Place
Kenny Lynch – Half the Day's Gone and We Haven't Earne'd a Penny (Professor Groove Dub)
Dogg Master – Quickie
G-noF – Strongly Fonk
Edwin Birdsong – Rapper Dapper Snapper
Vernon Burch – Do It To Me
Noe Carmichael – Star Bright (PG Fakestrumental)
Parliament – The Big Bang Theory
Xavier – Work That Sucker To Death
Aurra – Checking You Out
Dam-Funk – 'Kaint Let 'Em Change Me
The Rah Band – Messages From The Stars (Long Wave Mix)
The Rah Band – Messages From The Stars (Astro Mix)
Starpoint – Bring Your Sweet Lovin' Back
Bernard Wright – Just Chillin' Out
Pleasure – Nothin' To It
Tryezz – Sunset Haze
One Way – Push
Bobby Broom – Find Yourself
Freda Payne – In Motion
Toni Smith – Ooh, I Like The Way It Feels
Carol Shinnette – Cyanide Love
Dam Funk – Galactic Fun
Freeez – Southern Freeez
General Caine – L.R.J. Pop
Rick James – Below The Funk (Pass The J)
Con Funk Shun – Got To Be Enough
Felix Dickinson & Horse Meat Disco – I Like It When You
East Liberty Quarters – Lucky Charm
DOWNLOAD LINK