Since I am throwing an event with Andy this week (featuring our guest, the awesome Quantic – details here) I figured i'd share this great interview of Andy by Ray Lugo of the great Kokolo band (check out their blog here). A great look into one of our most cherished Montrealers, Andy Williams who we also like to call: The Teacher!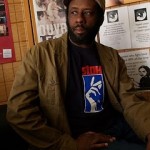 1) Can you tell us a little bit about your background?
– 31 years of radio
– Internationally-known deejay
– Jazz Archivist
– Music Producer
– Educator
– Ex-Professional Athlete (Basketball/John Eld Turbos)
2) How did you become involved in music?
In the early 70's it was unavoidable growing up in the midlands in the UK
Also influenced by my parents and uncles
3) Whom or what would you say has most influenced you?
Jimmy Saville, John Peel, and Lee Pettigrew from WBLK(New York)
4) What are your favorite 3 projects you've been involved in?
Pan African Space Station (Cape Town,South Africa), producing Black History Month Jazz Festival in Montreal for 13 years, and off course the goods @ Sala Rossa (Montreal)
5) Name 3 interesting cats you've met along the road
Max Roach, Archie Shepp and Mal Waldron
6) Where do you feel music is going?
Electronically obsessed with sounds reaching out to the galaxies
7) What's the downside to what you do?
Living out of my suitcase for long durations while on tour, and not getting paid by promoters such as Ness Ehrmani from Paris I (Very disappointing!)
8) Vinyl or mp3?
Vinyl Hands down! No laser! (Analog Thank You!)
9) What has caught your ear recently?
Roger Khosa and many other South African Jazz Musicians from the townships
10) If you had an unlimited budget to do a project what would you do with it?
Produce musicians from the townships of South Africa, and build a studio with the help of DWELL
11) Who would be on your "dream team"?
Quincy Jones, DJ Spinna, Flying Lotus, Pharrel Williams, Tina Weymouth, David Byrne and Phillip Glass
12) Do you feel the steem of music as an artform has diminished in the information age?
Not at all, everything is at your fingertips. Nowadays you can produce music to sound like Sibelius to Coltrane
13) What does "success" represent for you?
Being happy with whatever you do, and knowing the effort was there with hard work. Then looking back and seeing the progression made
14) We know everyone's got one, so what is one of the most memorable/terrible experience you've lived along the road?
– Memorable would be living underground with the Byfal Tribe in Senegal
– Loosing important archive footage of Bill Dixon (Avant-garde Jazz Legend)
15) What is the biggest mistake you've made so far?
Tough Question,because there's many…..
Ex: Quitting piano lessons at an early age, not conversing with my mother properly before she had Alzheimers. She never got to witness me as a grown man….
16) What have you learned from someone else lately?
Not to take anything for granted, as cliche as it sounds…, which means also staying conscious/focused…
17) What advice do you have for anyone looking to do what you do?
Put the work in, which will eventually lead to success, then you can decide whether it is PASSION OVER REASON or REASON over PASSION
18) What is your biggest goal for the coming year?
To make some noise in the music industry internationally, and the education system locally in Montreal
19) What should readers be on the lookout for?
2 new albums (back to back), and to take a listen to my previous Jazz album on PUBLIC TRANSIT RECORDINGS
20) Any last words of wisdom?
"If you're not on the edge,you're taking up too much space"