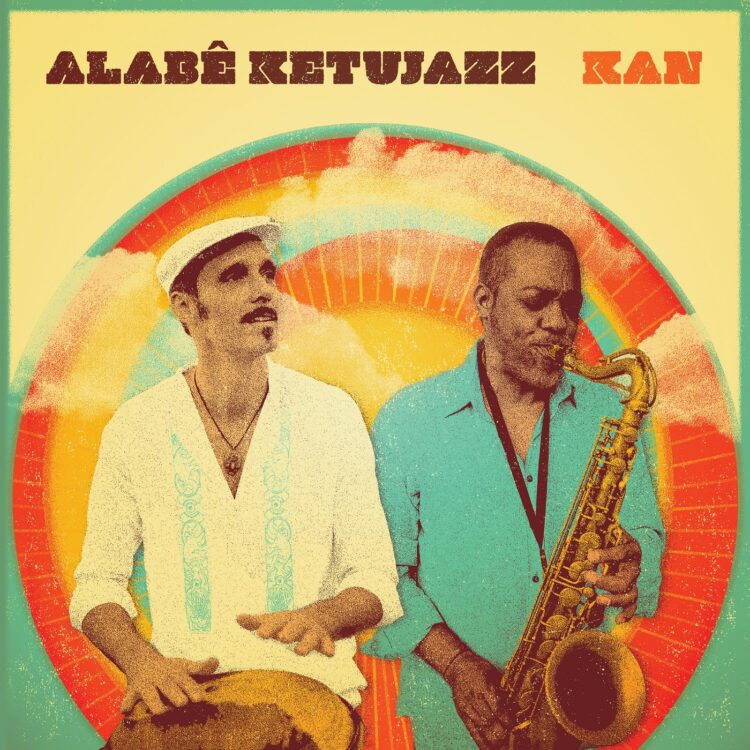 Alabê Ketujazz "Kan" (Poeira Music / Memória Discos)
Afro-Brazilian Candomblé rhythms meet jazz on 'Kan' by Alabê Ketujazz, the long-standing duo of Brazilian saxophonist/composer Glaucus Linx and French percussionist/composer Antoine Olivier. Captured on vinyl for the first time, the album is set for release on 16 September, marking the first release on Poeira Music, the brand new label of esteemed Brazilian DJ, producer and MIMS resident, DJ Tahira, in conjunction with São Paulo record store and now label, Memória Discos.
Glaucus Linx created melodies through his osmotic and ancestral link to the Candomblé universe, within which he was raised in Brazil, and which was subsequently reinforced by his long stay in France, where he had the opportunity to collaborate with numerous African artists, including the legendary Salif Keita.
Antoine Olivier was the apprentice of Dofono De Omulú, respected master drummer of the Afro-Brazilian Candomblé. He himself became an ogun alabê (sacred drummer) and played in religious ceremonies, where he learned the language of the rum drum (the leading drum) and how to establish a dialogue with the Orixás, the deities of Candomblé, via the entranced dancing practitioners.
Previously heard on DJ Tahira and Tim Garcia's 'Brasil Novo' compilation on Música Macondo "Opanijé Xarará" is based on a sacred song played for the Orixá Omulú, which is traditionally accompanied by a dramatic dance, expressing the duality and ephemerality of reality. The melody of the sax symbolizes the Orixá, telling his story through the movement of the melody, in the same way that the deity manifests himself through dance in the Condomblé ceremony. The composition emerges from the energy of the drums, and follows the different stages of the ritual.
Since forming their partnership in 2012, Glaucus and Antoine have created original music and textures inspired by rhythms and rituals, where the saxophone assumes the part of the Orixás telling their story through musical movements. This artistic approach opened many esthetic possibilities, transforming the raw material of the rituals into a new musical format, essentially Brazilian, where the spontaneous creativity of jazz meets the traditional rhythms of the Ketu Nation: Alabê Ketujazz.
This special vinyl edition is the first release on Poeira Music and it includes the exclusive "Canto de Xangô". A clear stand out on this album, it reinterprets a song by the great Brazilian genius, Baden Powell. "He was raised around the Candomblé and his Afro-sambas are deeply influenced by the sacred music. We used the traditional rhythm called Alujá which is specially dedicated to Xangô. It worked instantly, proving that Baden Powell probably had that in mind all the time. Kaô kabecilê!"
Support on Bandcamp