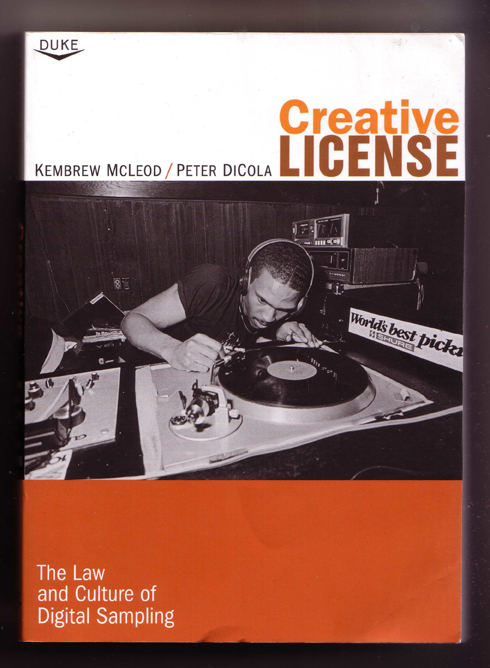 (by Kembrew McLeod and Peter DiCola)
Giving anything music related to a music lover is a pretty perilous adventure. You risk either giving that person something he or she doesn't like or simply giving something that this music lover already has. But fear not because I got a great idea for you for the music nerd in your life. If for exemple, you wanted to give something to Lexis, this book, which I've just finished reading is a great gift and it will keep him away from those pesky old records of his. (Not that we'd really want that…).
As the not-so-sexy title says, this book is about music sampling. The history of it, the legal side of it and of course the creative side of it. It doesn't really go into the technical side of it but the artistic process surrounding it. What is partucularly interesting here is that it's not written in a sampling artist perspective or in a sampled artist perspective. It's written in the very analytical way of scholars that are not taking part in any of this. Which may make for a harder read but it frees the book of any emotional involvement like many books about this subject. (Is it right? Is it wrong? Is it art?)
To analyse sampling correctly they talk to many people involved in everything surrounding sampling: sampled artist, lawyers, copyright activists, label executives, studio musicians, etc. Ok, ok you want names? David Byrne, Cee Lo Green, George Clinton, De La Soul, DJ Premier, DJ Qbert, Eclectic Method, El-p, Girl Talk, Matmos, Mix Master Mike, Negativland, Public Enemy, RZA, Clyde Stubblefield, T.S. Monk and at least 50 other people. Many opinions, many views on the subject.
If you're kind of lazy and don't want to read, find the documentary made at the same time as this book called Copyright Criminal. Really interesting but mostly taking the side of the sampling artist. There is great bonus footage of Eyedea before his death and an understanding of why I don't like Steeve Albini. (In fact, the DVD boxset on the official site of the doc seems a really good gift idea too…)
List of Samples used on Beastie Boys' "Paul's Boutique&quot