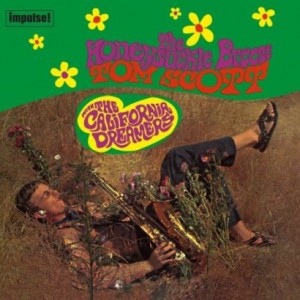 Sometimes we try to avoid talking about sampled records because it seems like an obvious pick, and a subject that has already been covered a million times. But then again, it seems like most of the time when we are in the sampler/sampled discussion mode we end up focusing unconsciously on the sampled version we've always known more than the original. You following me? What i mean to say is let's just look at this as if Pete Rock had never sampled that beautiful saxophone hook for the classic "T.R.O.Y"
After climbing up the ranks as a first-call studio musician – with legends like Gábor Szabó, Lalo Schifrin and Oliver Nelson – saxophonist Tom Scott was ready for his very first solo record. So he released "The Honeysuckle Breeze" in 1967 on Impulse Records at only 19 years old but it ended up being a rather forgettable commercial record with pretty bad reviews.
It actually has a 1 star out of 5 rating on AllMusic.com
But then that's the genius of sampling isn't it? It only takes a guy like Dilla or Pete Rock to resurrect a dollar bin record and turn on an entire generation to it. I've seen tons of great producers list this very track as one of their all-time favorites. Think it would have happened if Pete Rock didn't load the sample in his SP-1200?  I'm sure Tom Scott must have been very surprised at the power his saxophone hook on "Today" still had 25 years after when "TROY" was released in '92.
Tom Scott - Today
What I also didn't know about this record was that "Today" is actually a cover of a Jefferson Airplane song. Obviously, that version being a lot more folky, and sans the awesome saxophone parts.
---
Oh, and why not… here's the Jefferson Airplane version
---
Oh, and why not (x2)… here's the awesome J Rawls cover of "TROY"