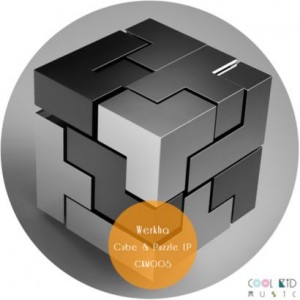 With the amount of future beats / soul / post-dubstep (or whatever the hell you choose to call it) it's real easy to get lost in the shuffle and start hating that whole vibe all together. We certainly have phases where tracks like these get on our nerves and we find the whole thing a bit formulaic.
But then a track like this comes along and catches your attention and all is forgiven.
Werkha is a rising talent championed by like-minded fledgling label Cool Kid Music. In keeping with the label's aesthetic, Werkha has delivered a three track EP that fuses neo soul, sparse garage beats and lots and lots of synths. "Cube & Puzzle" starts all hazy before launching into Bowski-style stripped back garage. "Le Roitelet" is a bizarre mix of fuzzy digital soul and jazzy French female vocals. "Bottle Trick" keeps the jazz, this time guitar, and marries it to slo-mo beats and layered vocal loops.
Highly recommended EP!
http://www.junodownload.com/products/cube-puzzle-ep/2036680-02/?scref=sc
Release date: Sep 18, 2012
www.facebook.com/werkhamusic
www.facebook.com/coolkidmusicuk