Like so many struggling rapper mooks before and since, I've worked all sorts of call center jobs. You know: the ones where you're basically a peg in the soundboard, that you tolerate because it's the easiest way to finance your many indulgences and whatnot.
In 2007, I was cubicle-hopping when I eventually landed yet another telemarketing gig, this time in an office building on Sherbrooke West. During lunch, I'd wolf down whatever was on the menu for the day and hit the Atom Heart to dig for gemstones. On one fateful run, I picked up Pow Wow: Yet More Jazzman Sevens because I recognized Aaron Neville and he had a joint on there. Not only did it turn out to be one of his best songs ever (the mighty Hercules) but this little compact disc would also serve as the introduction to my most secretest, un-platonic musical crush: the enigmatic Bajka.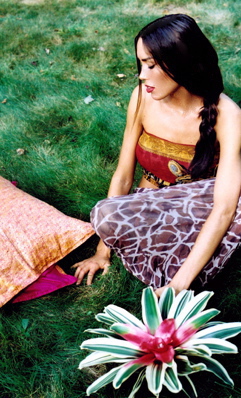 It's pronounced "Biker"(buy-kuh). Her name means "Fable" in Slavic idioms. The song was called "The Only Religion That I Believe". I could hardly believe it myself. Her voice made me swoon. Playful, yet seasoned. Unintentionally sultry. To say she sounds like Erykah Badu would make me wanna pick a fight to defend her honor. I brought the sample to my dude Oddeo and he confected the beat I wound up using on The Businessman. Still, I wanted more. Diligently hitting the webs, I found but scant information. I peeped her collabos with Radio Citizen and UK Chillout cool guy Bonobo. They were nice, whatever. Too much of them, not enough Bajka. Ultimately, my pining for her went unrequited. I was left with no other choice but to move on.
[Warning: shameless plug ahead] Fast-forward to now: after finally releasing my own project Odd Man Out, the inclusion of The Businessman reminded me of my old flame, so I looked her up again. Lo and behold, she released her solo debut just a couple years ago, the outstanding In Wonderland. This is my favorite song off the album. If by the grace of a glitch in the matrix we ever meet, I might have to drop on one knee and profess my love, I swear.
Bajka - The Bellman's Speech