Written by: Max Robin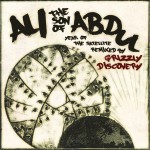 Good remixes that aren't at the same level of the originals are sadly quite often the case. That being said some "perfect" work doesn't need reworking. Of course the marketing department likes the idea of another big name not far from the song but it's certainly not an artistic choice. Most succesfully interesting remixes change the vision of the song. That's the idea behind Grizzly Discovery (DJ Kinetik and Gnarly) reworking of one of the most intimate EP by canadien rapper/betmaker Ali the Son of Abdul, Year of the Satellite.
Not that it needed rework but those remix are give a new vision of those songs. Ali seems happy on Go Numb. More contemplative than angry on Blood Journal. Listen!
You can listen to the original Year of the Satellite at http://sonofabdul.com/