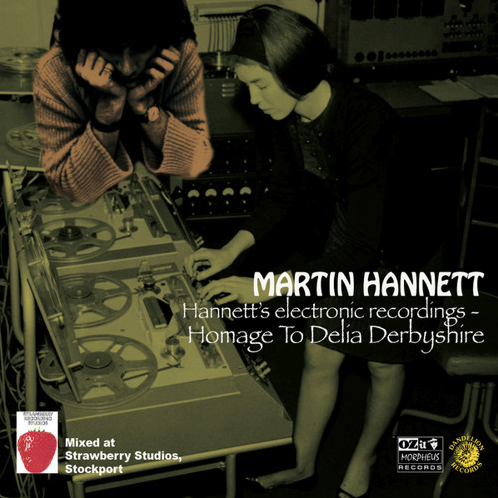 Hannett's Electronic Recordings "Homage To Delia Derbyshire" (Ozit Dandelion)
via Boomkat: At long last legendary producer Martin Hannett's wild dedications to Delia Derbyshire and her work at the BBC's Radiophonic Workshop is revealed to the world at large thanks to Dandelion Records, who've previously issued Hannett's unreleased studio outtakes with Joy Division.
If you were into Hannett and Steve Hopkins' "The Invisible Girls" album or, indeed, anything by Delia Derbyshire; you need to check this one!
The 18 tracks of "Hannett's Electronic Recordings – Homage To Delia Derbyshire" were sourced from sessions at the hallowed Strawberry Studios in Stockport filed under that title by Hannett and range from kooky electronic bachelor lounge miniatures to some really cranky space rock and one absolutely unhinged 10 minute part of alien madness that's worth price of admission alone. And it's total speculation on our behalf, but some of the languid guitar pieces bear a striking resemblance to Vini Reilly's Durutti Column sound. Just saying.
Both masters of bending time and space, it's no wonder that Hannett was influenced by Delia's work as a young lad watching the tellybox in '60s Manchester, and thus it's not hard to draw a line between that appreciation of wigged out tone, echo and space that Delia provided Hannett, and the judicious application of FX he would come to apply on classic records by Magazine, Joy Division, Early New Order, The Stone Roses and The Happy Mondays in coming years.
Aside from the first track which we're pretty sure appeared on "The Invisible Girls" set, it's all effectively a missing piece of the puzzle of British electronic music, forming a discernible bridge between progressive eras in a way that's much harder to trace between modern music. Highly recommended!
"Homage To Delia Derbyshire" released August 11, 2017 on Ozit Dandelion