Jah Shaka, the Dub Warrior of South-London
Special Contribution: Andy Williams (Montreal, The Goods)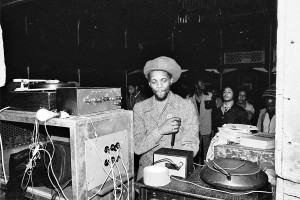 Named after the Zulu Warrior, Jah Shaka's real name remains a mystery. He arrived in London in 1956 as a young teenager in a time where racism was at its peak. He always detested the "Babylonian System", a term used by Rastafarians to sum up the injustices and unfair judgements on human beings.
Although newly arrived immigrants' key goal in arriving to the U.K. was work in the Mecca of industrialized countries, they soon realized that they were seen as second class citizens, leading to their own congregations in churches and dance halls.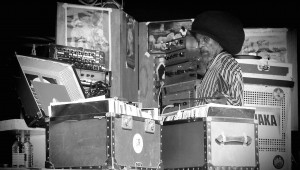 Shaka's first dance-hall apprenticeship was with the popular London deejay Freddie Cloudburst during the 1970's, who was the dance-hall king for the bourgeois community, providing the cream of the crop sound for the newly arrived West Indians and Nigerians. Freddie C's professionalism was imitated by the young dread hipsters, who idolized his broad knowledge of styles and he was known to popularize hits by Louis Jordan, Fats Domino, Vic Taylor, Minnie Small, Nina Simone, and various artists from such labels as Phillips, Blue Beat, Impulse "Motown" and "Stax" for the London Community.
Jah Shaka became a maintenance worker for Freddie C's sound system, making sure the tube amplifiers and stacked walls of speakers were pristine and functional for every event Freddie C produced. Shaka eventually got his turn to present to the young black community his style of rhythms and sounds. He has influenced many producers from the dub culture to the post-punk scene.
His South-East London Sound System was once considered the best in the U.K, outdoing his rivals in the Midlands in areas such as Birmingham, Manchester and Nottingham.
Shaka became more visible in popular culture when he played himself, with the support of Italian Film Director Franco Rossa, who featured the young talent in his film "Babylon" in 1980.
Jah Shaka still plays on his soundsystem on a regular basis in the UK and from time to time in other countries. His soundsystem gigs are a cultural institution that made huge impact on the developement of dub.
More information on Jah Shaka
Special Contribution

Words by:
Andy Williams
(The Goods, Montreal)
My favorite Jah Shaka dub album: Commandment of Dub Vol.1 (1982)