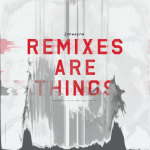 Hello Not Lexis here… Let me introduce myself. I'm Maxime Robin, a long time college radio host, beatmaker and all around instrumental hiphop lover from Quebec City. I really like Music is my Sanctuary because it makes me discover new beats. Another way to do that is to find interesting free projects on the web. But there are a lot (and I really mean a lot) of beattapes and remix EPs and other free stuff up for grabs and it can be confusing… From time to time, I will write here to combine the two for you! Oh que oui!
Let's kickstart the thing with a nice remix project by a new favorite of mine, Jonwayne. The "Bowser" instrumental album on Alpha Pup record is a nice combination of 8bit sounds and raw beats. A bit like Dibiase's "Machines hate me". The beats on The EP "Remixes Are Things" give a good impression of what to expect. And, of course, the EP is free.
I'm not really shure why Jonwayne choose those rappers to remix (Twista, Chingy, Drake, Gucci Mane,…). They are a bit too commercial to my taste. But I must admit, it's tight and Jonwayne definitely seems to have fun here. Not sure yet? Check this video of the Tru Life, Prodigy and Kool G Rap track. Raw.