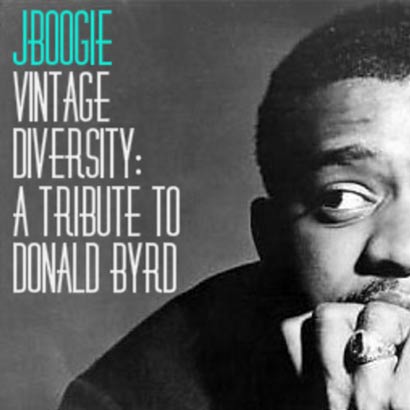 Mix of the day: J Boogie "Vintage Diversity: A Tribute to Donald Byrd"
from J-Boogie: "Donald Byrd has been a huge influence to myself and several other DJs and producers in the game since the Blue Note era. He was one of the first to bridge the gab between jazz, funk, soul and hip hop over several generations.
Sampled by everybody from Black Moon to J Dilla, Gangstarr to Pharcyde, Donald Byrd, The Blackbyrds and the 125th Street NYC all created the building blocks of hip hop.
I have a soft spot in my heart for both the heady jazz side of Byrd, as well as the funky disco boogie bizness. Enjoy a trip through the amazing land of the Black Byrd."
Blackbyrds – Wilford's Gone
Donald Byrd – (Ethiopian Knight) Little Rasti
Donald Byrd – Steppin Into Tomorrow (Madlib Remix)
Blackbyrds – Reggins
Blackbyrds – Life Styles
Blackbyrds – Mysterious Vibes
Donald Byrd – Places and Spaces
Erykah Badu – Think Twice
Jay Dee – Think Twice
Donald Byrd – Wind Parade (King Most's Dub 'Em Down Redirection)
Donald Byrd – Pretty Baby
The Blackbyrds – Do It, Fluid
Donald Byrd – You and the Music
The Blackbyrds – Happy Music
Konald Byrd – Lansana
Donald Byrd & The Blackbyrds – Rock Creek Park LIVE
The Blackbyrds – Rock Creek Park
Biggie Smalls – Doin It In Her Park
Donald Byrd – (Falling Like) Dominoes (J Boogie Live EDIT)
Donald Byrd – Change (Whiskey Barons Edit)
Donald Byrd & 125th Street NYC – Love Has Come Around (Sake1 DJ Edit)
Donald Byrd – Star Trippin' (12″ Version)
Donald Byrd – Love's So Far Away
Donald Byrd – Dreaming About You (C&S)
www.jboogie.com
@jboogiedubtronic
twitter.com/jboogiejustin
facebook.com/jboogie
---
Vintage Diversity is a journalistic mixtape project which exposes the music and stories behind unheralded artists who were way cool, way before their time. Listen to exclusive mixes of this incredible artists by J Boogie, as our staff writers take you on a biographic journey back in time.
Like the concept? we're turning it into an event in San Francisco, RSVP here.
www.facebook.com/events/342928712483099/
Learn more about the Vintage Diversity articles:
mixologicity.com/category/vintage-diversity/