Nick & Astro's Guide To The Galaxy
Comprised of Vancouver producers and multi-instrumentalists Nick Wisdom and AstroLogical, Canadian duo Potatohead People boast a number of noteworthy accolades thanks to a their signature sound drawing influences from '90s Boom-Bap, Future Soul, classic Jazz, Deep House and Boogie / Funk.
Beginning with a series of EPs, including their landmark "Kosmichemusik" EP, Potatohead People's productions quickly made their way to artists like Illa J who tapped the duo to produce his now critically acclaimed self-titled album, as well as producers like Kaytranada (who co-produced Illa J's "Strippers" with the pair).
We sat down with the producer duo to learn some more about their latest release "Nick & Astro's Guide To The Galaxy", how the collaborations came together, and about life in general.
What's good fellas? First, I want to congratulate you guys on your second LP release!
Nick: My man. Happy to be doing this interview with you, and thanks!
Astro: Yeah, we're big fans.
Almost three years between the two releases, any reasons why?
PHP: Originally we were working with a different label for this but there were some complications that were making it difficult. We linked back up with Bastard Jazz, which was great because they helped us connect the dots and get the project out. The 3 year gap gave us lots of time to dive in on each track and really make it a special album.
How did you guys come to work together, and what's the creative process?
Astro: We originally linked up in a Hip-Hop group called Elekwent Folk. Soon after we decided to branch off and become a producer duo.
Nick: We have a very similar idea of what sounds good to us, so the creative process flows nicely. Making music together is what we like to do when we hang out so it's just what we do. We will be chilling out at my place catching up about things with a joint lit one minute, and then the next minute without even really intending on it we'll have a new joint bumping out the speakers and it's lit! [Laughs]
One strong recurring theme with Potatohead People is working with Moka Only. How did you start working together?
PHP: We came up listening to Moka's music and he has always been a huge inspiration to us. He has influenced our music beyond measure… We started going digging for records together after connecting online and became friends from there.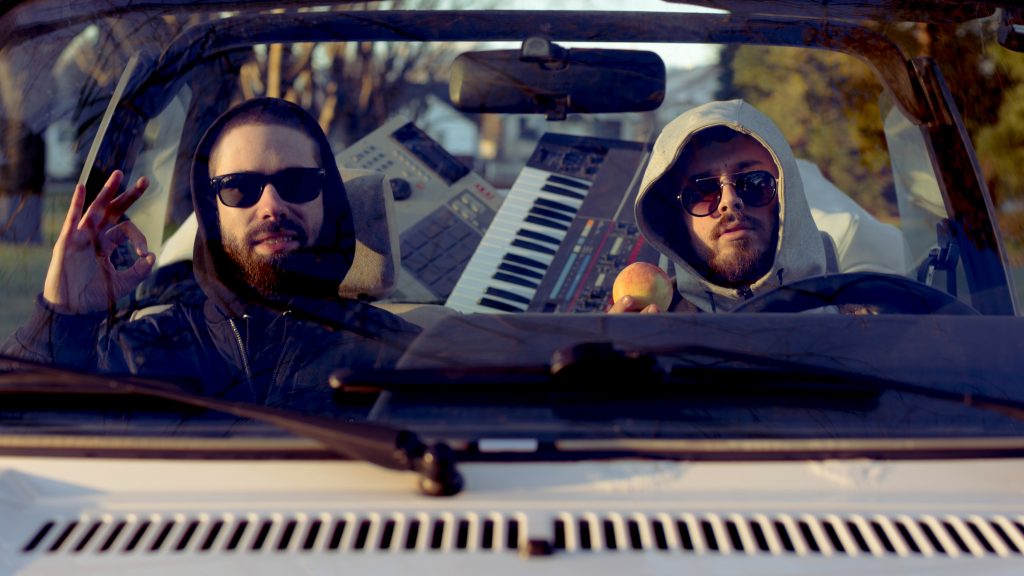 Same thing for Illa J?
PHP: After doing the 7" with Frank Nitt, Illa J and Frank came to Vancouver for Dilla Day 2013. Months later, Nick moved to Montreal and it just so happened that Illa J had recently moved there as well; they ended up re-connecting and started working on music together heavily. He's is an amazing artist with numerous talents, he works so hard and always has such a positive energy surrounding him. It's been a pleasure working with him over the years and again on this new album.
Both of you are avid record collectors, what are each of your Top 3 of the moment?
Nick:
Goldie Alexander – Fool In Love
Teddy Mike – On Point
Donald Byrd – Thank You … For F.U.M.L. (Funking Up My Life)
Astro:
Twilight – Still Loving You
Mtume – Rebirth Cycle
The Carpenter's Union on Today Productions
We're there any fun anecdotes or funny moments from while you were recording?
Nick: Nate (Astro) kept singing this John Travolta riff in the shower and I overheard him all the time and started making a beat to what he was singing.
Astro: Damn B… always with the Travolta jokes. I'll get you back for this!
Do you guys have a favourite local spot in Vancouver for anyone who's going to visit?
PHP: Beatstreet Records on Hastings St.
Do either of you have any solo projects coming up?
Astro: AstroLogical has something cookin' that will be out on Bastard Jazz sometime later this year or next year.
And finally, you got any shout outs?
PHP: Shoutouts to Aaron & Erik, Nanna, Kapok, Illa, Moka, Trian, Mosaic, K-Maxx, Amaris, Kemal, Thomas, A-Ro, Everybody around during the making of this album, The PLAYERS who took the time to play on this, all the people sending us messages and showing love, blogs, Spotify, the team and the followers!
"Nick & Astro's Guide To The Galaxy" released May 11, 2018 on Bastard Jazz
---
Follow: