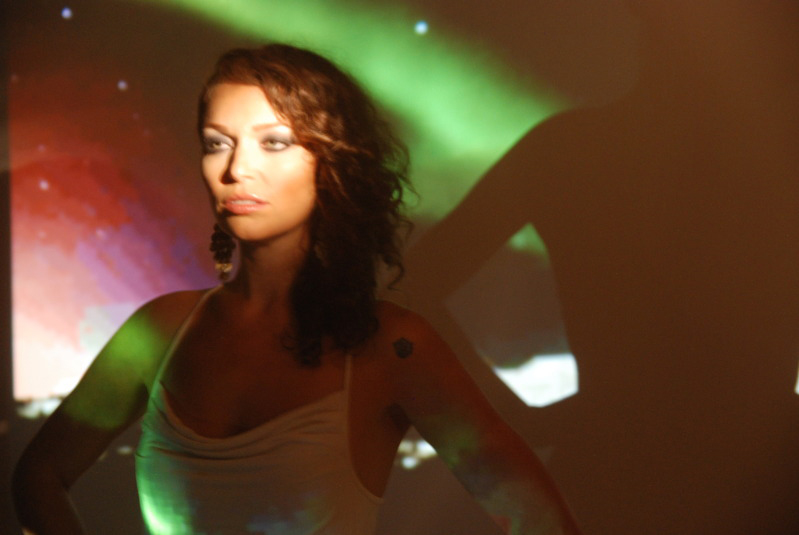 I've known Sarah Linhares for a little while now which is why i'm very happy to see her releasing her first record called "Messages from the Future" out soon on Moonstarr's PTR Records. Her tracks have already started to get some radio play with Djs like Gilles Peterson and hmmm… me! (I like mentioning myself in the same sentence as Gilles.) I sat down and asked Sarah a few questions about the making of her first LP!
Sarah Linhares - Sarinha (Produced by Kenlo)
Tell me a little bit about your musical background. How and when did you start performing?
Sarah: I started singing in my church choir a child. I also played piano for 3 years and clarinet in the high school band. I sang in many choirs over the years including Wabiza gospel choir, Montreal Intercultural Gospel Choir, Imani Gospel Choir, and the Concordia Classical Choir. I trained and played with an Afro Brazilian Samba School called Estaçao Da Luz for about 2 and a half years. I spent 4 months in Venezuela training, playing, recording, and touring with musicians down there in 2005. And my first solo vocal performance was in 1999 when I grabbed the mic at Angel's Club Levels Jungle/ D&B night and rhymed & sang over Jungle music!
How good does it feel to finally have your first solo record out?
S.L: Wow! I am so thrilled to finally have this album in my hand, let me tell you. I have wanted to make a record forever but life happens and things take time. I needed incredible amounts of patience, perseverance, and passion to make this album. I couldn't have done it without many incredible people that helped me immensely along the way. I give thanks for them!
How long was the recording process?
S.L: Well…it seems like it took forever. I started writing and recording the album 3 years ago! Of course it didn't actually take three years to record. I would write a song and record the vocals and then go back and forth with the producers, then life would happen, then we'd revise it , add to it,  finalize it, and then mix it, etc. This process would take from a couple days to a couple years depending on the track! I recorded the majority of it at Moonstarr's studio and one third of it in my closet studio.
Tell us a little bit about all the collaborations with different producers on the record.
S.L: I reached out to a bunch of producers & musicians that I was feeling when I decided to make the album. I told them all to send me dope beats and that I wanted to collaborate with them. Kenlo stopped over and brought this enormous pile of amazing music. I fell in love with 4 of his instrumentals and started writing on them right away. Moonstarr is the executive producer of the record so he oversaw the whole process. I heard his instrumental version of Step Up and was instantly inspired to write that song. I asked him to write the music for Only Human. Sikh Knowledge sent me a huge beat real and told me to take my pick so I chose Stressin' Lessons & asked IamBlackGirl from Nomadic Massive to rhyme on it. I'm a  big fan of her style. David Ryshpan and I had begun working together at RBMA in 2007 so it was natural to have him work on the record. My friend Camplaix from Lisbon, Portugal was one of my favorite producers / musicians that I met at RBMA so it was also natural to work with him on the album. He makes incredible stuff. I was a big fan of Think Twice's music so I asked him for a beat. I fell deeply in love with Here the second I heard it.
There seems to be a lot of Montreal talent right now coming its own. Is there an explanation for the level of quality thats been coming out of MTL or has it always been here?

S.L: Montreal definitely has some serious talent coming up these days! There have always been incredible talents coming out of our fair city. Montreal attracts and breeds artists because of it's relaxed and open  environment, it's cheap cost of living, and it's incredible cultural awareness and exchanges. Montrealers seem to develop or naturally exude an immense amount of artistic, creative, and passionate energy. However, we need to be pushed at times to keep it moving instead of falling into the comfort of stagnating once we find something that works as opposed to pushing it to the next level.
Any producers you'd like to work with on the next record?
S.L: Of course there are countless producers I'd love to work with! My enormous wish list includes Mark de Clive-Lowe, Daz-I-Kue, Zed Bias, Onra, Flying Lotus, Timbaland, Steve Spacek, Mark Pritchard, Jeremy Ellis, SBTRKT, Dam-Funk, Eric Lau, Kidkanevil, Quantic, Buraka Som Sistema, Diplo, Caribou, and Omar…. just to name a few!
We performed together at the Mount Kimbie show and you did an amazing job. You looking forward to performing these songs at the record launch?

S.L: Thanks Lexis! That was a really fun show to do with you. I can't wait to perform tonight. This is really my coming out show so people can get a real understanding of what I do. It's the first time I'll be performing this show. I'll start off solo and then have the band (David Ryshpan, Anthony Pageot, and Mark Haynes ) join me on stage. Sikh Knowledge & Tali from Nomadic Massive will also join me for a couple tracks. It's gonna be a really fun night!
——
Sarah Linhares' Record Launch – October 6th @ Belmont