Pfewwww. Another edition of our beloved 24 Hours of Vinyl events has passed. The 4th edition was broadcasted in a new venue and mostly with DJ's who hadn't played the event yet but the feeling I think we all have looking back on it after a good nights sleep is the same as the first three: A truly deep experience of musical sharing between music junkies.
Yes, the fact that it's a vinyl only thing is a big part of it: it brings the DJ back to his roots, reconnects them to their collection. But it's not the primary point of this event. Beyond the whole Vinyl is better than any other format argument the 24HOV events are about life changing music discoveries. It might sound cheesy but every time I finish one these I am floating on a cloud for a little while…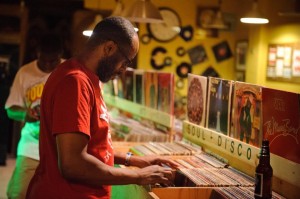 All of the pictures and some of the sets will be available soon.
THANK YOUs: All of the DJ's, to Dan @ Death of Vinyl, Philippe Sawicki, Scion Sessions, the guys @ Tonton, 10Kilos… and of course to all the listeners! (and to the wonderful MF Gold for the great little video recap below)
SORRY: We had a few problems with our broadcasting options and doing it through UStream was really the very last option we had. We absolutely hate those ads as much as you did and promise never to do it on that platform again.
Mucho Love
Lexis
http://www.youtube.com/watch?v=0U3G9pXMcXk