In the world of vinyl, Germany is famous for its great classical pressings and the undeniable influence of Krautrock on modern electronic music.
That's why I was so surprised to find a smooth and downright funky track on Hildegard Knef's 1970 LP. Indeed the song Im Achzigsten Stockwerk highlights the actress turned crooner's sultry deep voice with a silky bassline and some slick guitar work. A complete contrast to the stern droney sounds on my other german records, this is an upbeat and catchy song that I pull out when I want to throw people for a loop. People hear the intro and are immediately drawn in but you can catch the surprise on their faces when the german lyrics kick in. (This was confirmed when I played the record out during my 24HOV vinyl set )
Speaking of loops, I would have never heard of this record let alone gotten my copy if it wasn't for the international language that a dope break represents to vinyl afficianados worldwide. As you can see the cover of my copy hardly screams funky smoothness.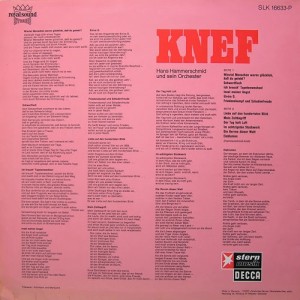 Indeed, a fellow loopdigger in Germany got in contact with me looking for some classic Quebec breaks and I decided to trade them for Berlin breaks of his own. When done right, record trading is one of the best ways to discover otherwise unknown and hard to find records. It felt good to help someone find some LPs they've been after for a while but the reward was tenfold when I got a hold of such an incredible cut. I've always felt lucky to live in a province with distinctive prog-rock records that have allowed me to trade for albums from around the globe. Next time, you find a double copy of a Gamma or Trans-Continental release, think of what it might get you in return.
---
The song hasn't been sampled a ton of times (surprisingly) but here are a couple of great interpretations
and this great edit from friends of ours from Vienna