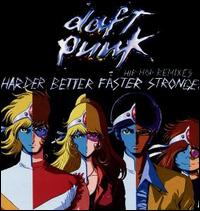 Forgotten Treasure: Daft Punk "Aerodynamic" (Slum Village / Jay Dee Remix)
Can't believe I've never shared this with all of you yet. Not that this J Dilla production is the rarest thing he's ever done but it's definitely one of the most interesting and there is quite a bit of controversy around this one amongst Dilla heads.
The controversy lies in the fact that this remix was released in 2004 as an official B side to a Daft Punk single (Harder, Better, Faster, Stronger) at a time where Dilla had left Slum Village (he left in 2002). What doesn't help resolve the issue is that it is credited as Slum Village remix and not Jay Dee. The best answer to resolve this issue is an interview by Busy P (from Ed Banger) explaining how Daft Punk hooked up with Dilla.
So based on the message boards that I have read I'd say I feel pretty close to 75% sure this is a Dilla production. What I do know is that it's dope and that I remember still to this day where I got this record. My homie Scott C sold it to me when he was working at Noise Records (R.I.P) in Montreal.
Gyeah!
Daft Punk - Aerodynamic (Slum Village / Jay Dee Remix)