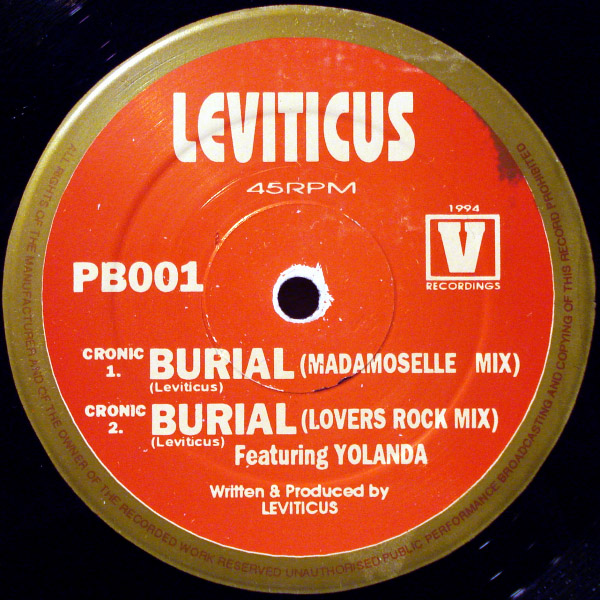 Forgotten Treasure: Leviticus "The Burial" (1995)
An absolute classic from 1994, the glory days of the Jungle scene in the UK, "Burial" was released in 1994 on Philly Blunt (who also released another of my all-time faves Firefox's "The Warning").
When I was about 15 this girl gave me a Jungle mix on cassette and let's be honest, there's nothing better than a cute girl to get you to try something new. In this case, i'm talking about Jungle or D&B of which my first impression was that it was the fastest thing i had ever heard.
I couldn't really figure out how to nod my head to it, much less how to dance on that. But once I got hooked on a few reggae and hip-hop samples you figure out that its easier to vibe to it and half tempo than it is to bang your head or move your feet at 160 BPM.
I remember first hearing this jam on a Dream Teem mix CD and I've been bumping it ever since. Leviticus is actually an alias of Jumping Jack Frost, one of Jungle / D&B's most important figures.  The studio engineer behind "The Burial" was actually a young Dillinja, and Optical was also involved in the production. We can see why it still remains a classsssic!
'My Sound A Murder' by Jigsy King and Tony Curtis on the Real Rock Riddim. the melody was nicked from Copacabana by Barry Manilow and the toasting says both 'Big Fat and Heavy' AND 'Big Bad and Heavy'. Go have a listen for yourselves… p.s. female vocal sampled from Make Love to Me by Jill Francis