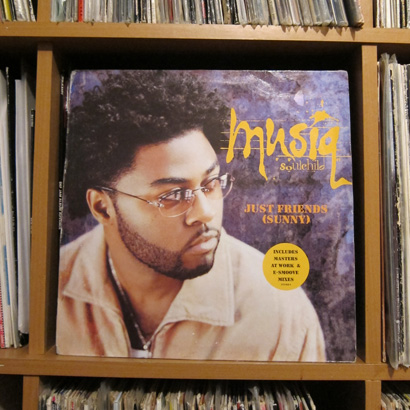 Forgotten Treasure: Musiq Soulchild "Just Friends" E-Smoove Remix (2000)
One of my favorite albums of this year (don't worry, there won't be a list) is undoubtedly Black Radio by Robert Glasper Experiment. I remember being stuck at the halfway mark because once I heard Ah Yeah (Feat. Musiq Soulchild And Chrisette Michele) I decided to get reacquainted with the repeat button. This was my first conscious introduction to Taalib Johnson aka Musiq, who has been releasing soulful RNB hits for almost 13 years now.
After spotting an amazing 12" of his single Just Friends (Sunny) at a local record store, I just knew I'd eventually have to share it with the MIMS crowd and dig deeper into his catalogue. I love the original version for it's unapologetically straightforward and open-hearted lyrics, pleasant vibes and tongue-in-cheek beat box intro (pun intended), however nothing tops E-Smoove's Soul Revival remix (not even the playful Masters At Work Dub). There's just something about the way those loungey piano chords and jazzy guitar riffs tease each other over a swinging house beat.
Musiq - Just Friends (E Smoove Remix)
---
As a bonus, here's another track I can't stop listening to (and singing around town):