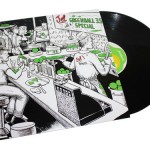 These days, way too many hip-hop acts try to make their production sound as "big" as possible often opting for a more polished over-produced sound. So in that sense, Lo-Fi instrumental hiphop albums only available on vinyl form is a bit on an oddball.
One guy that certainly is synonymous with the lofi sound is Jel. He was part of the indie rap renaissance of the beginning of the century, being a part of the Anticon crew and being a close collaborator of Dose One. Incidentally, the vibe of this release reminds me of fellow Anticonien Odd Nosdam but less experimental and more focused.
But here is the man himself talking about his most recent project.
The "vinyl only" part can be explained by the release on the excellent Fieldwork label. It isn't a very old label but they already have released some of the nicest instrumental hiphop records (because they really are records!) of the last years. For example, the Zavala produced The Dark Time Sunshine Vessel Instrumentals last year was as strong as the "real" Darktime Sunshine joint. The split record by Edison and Lazerbeak (from Doomtree) is quite something and clearly points to another direction than the west coast post-dilla sound.
To give you a rockish idea of the sound of this release: