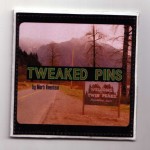 You may have read my love for Twin Peaks on my personal blog and it's no secret that I love beats too. So beats made with the sounds and samples from Twin Peaks sounds like a really interesting project to me! I'm only sad that I didn't have the idea before.
Morti Viventear, an old school sampling beatmaker from Montreal, takes some recognizable music (like the main theme) and some not so recognizable bits and pieces of sounds (like voices or pads) of the cult series to make the tracks. Of course, all the material is not from Twin Peaks; the crunchy sampled drum is there as usual in Morti's beats but lots of old analog synth sounds too. What's suprising is how he respects the original melodies but adds to them to surpass the gimmicky nature of the enterprise of sampling Twin Peaks. By doing so he made a very personnal creation out of his view of Twin Peaks. Even the title may seem a bad dyslexic wordplay but I have no problem to imagine a dwarf saying it backward.
Thanks to Chat Blanc records, this is available in handmade numbered copies only. Order it the old school way (via mail) here!