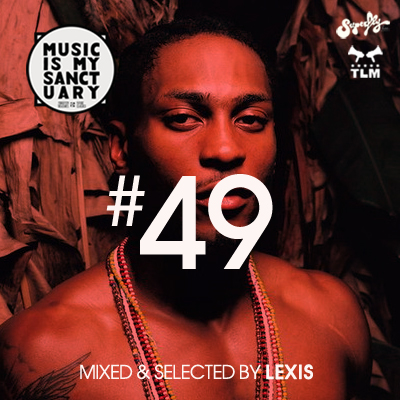 Music Is My Sanctuary – Show #49
As MIMS steps into year 5, we are also one step closer to the landmark 50th show. Thanks to the great feedback and energy I get back from making these i've made it all this way!
Show #49 features over 25 tracks that are all beautiful in their own way. First half of the show is more uptempo stuff and the second part are beats and soul. I strongly encourage you if you generally like one and not the other to give it a try! That's the whole point of the show; wonderful music from all angles!
Tracklist:
01. James Blake – Pan
02. Ifan Dafydd – Miranda (1:40)
03. C.R.S.T – Heartbeat (4:30)
04. Arkist – Rendezvous (8:15)
05. Hudson Mohawke – All Your Love (12:10)
06. Pangaea – Hex (14:30)
07. Breton – RDI (Girl Unit Remix) (18:00)
08. Sully – It's Your Love (20:30)
09. Zed Bias – Fairplay (Old Skool Remix) (22:45)
10. Zed Bias – Trouble In The Streets ft. Mark Pritchard (25:15)
11. Sepalcure – Every Day Of My Life (Jimmy Edgar Remix) (29:15)
12. Lunice – Guardian (33:15)
13. Thundercat – Jamboree (36:15)
14. Tomson & Benedict – Blind (Opolopo Boogie Radio Edit) (39:00)
15. Benis Cletin – Jungle magic (42:30)
16. Colonel Red – Can We Work It Out (46:45)
17. Stac – All Or Nothing (Kidkanevil Remix) (52:30)
18. Outboxx – Brighten My Day (55:00)
19. Knxwledge – Howinsensitive (58:00)
20. Dibiase – ? (59:15)
21. Shashu – Dig (61:00)
22. Smilé – Retro (64:00)
23. Ta-ku – Ladies Night (65:45)
24. Hassaan Mackey & Apollo Brown – Volume (67:15)
25. Shabazz Palaces – Swerve the Reeping… (69:45)
26. Miles Bonny – Yes I Do (73:00)
27. Floating Points – Ashbybeat (76:00)
Download Link