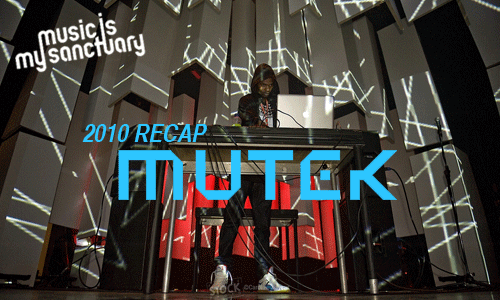 When I looked at the MUTEK lineup a couple weeks ago I think it had the potential to be one of the best editions, speaking from my perspective of course. Even though the rain did kind of spoil the fun of the outside shows, it didn't stop me from having a blast (most of the artists on my to-do were slotted to play inside anyways). So here is the recap
Friday June 4th
Actress, King Midas Sound, Ikonika, Shed, Demdike Stare
Really interesting night full of forward thinking tech, ambient and dub music with a 4 great bookings at 2 venues. First off, as a venue for electronic music, I like the S.A.T a lot more than Club Soda (or Metropolis for that matter). I went back and forth from the two venues which is never the best thing to try to appreciate a show, you end up feeling like you missed some of everyones' set.
Actress was one of the most awaited shows of the weekend and although musically the guy did not disappoint at all, his stage performance wasn't very good, lack of connection with the audience. Live Electronic music shows need to be about more than a guy behind a Macbook. Again, the music was dope though. And Actress is actually a great guy, I interviewed him the next day. (Check out the interview)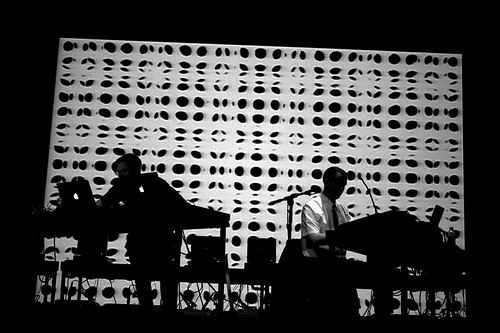 I then checked out the last 45 minutes of the Demdike Stare set. It was a really interesting show which they didn't tailor to the audience, they did their thing. Ambient and Dub textures inspired from all corners of the world with great accompanying visuals. Really inspiring! (Check out the interview with Demdike Stare)
King Midas Sound win the award for loudest show of the weekend. Gaddamn! I could tell from the sound check that it was going to be bass heavy but didn't expect it might actually be too loud! It did kill my ears a little for the weekend but the KMS peeps did pull a solid solid set. Great vocalists Roger Robinson and Hitomi and producer Kevin Martin did the dub ting' proper! (Check out the interview with King Midas Sound)
The night was rounded out very nicely by Ikonika and Shed on both sides of the fence. But again, by trying to be everywhere at once I felt like I missed most of each other sets. But from what I heard Ikonika certainly did live up to the hype!
Saturday June 5th
Henrik Schwarz, Guillaume Coutu-Dumont, Dixon, Move D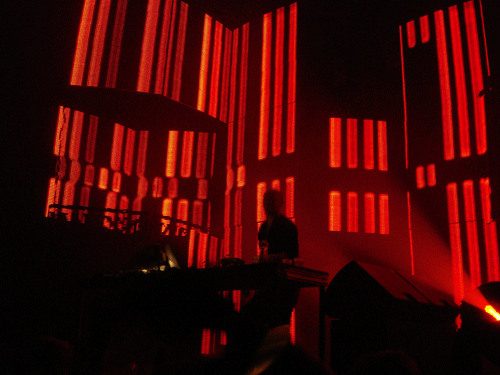 A very very solid night @ Metropolis on saturday night. That venue is just so big and more tailored to a "traditional show" that it had me worried a little. Would the lineup and venue live up to the fairly steep ticket price. Well, hmmm… yeah it did! Quadruple billing and dope music until about 5-6 am gets the grade.
I was really pleasantly surprised by Guillaume Coutu-Dumont and his 4 live musicians. I was a big fan of his studio stuff but hadn't heard him live yet. This was a good example on how to go well beyond the simple "guy behind laptop" set up. Inspiring.

Henrik Schwarz did adhere to the more straight up "guy behind laptop, mixer, synths and midi stuff" setup… but man did he knock it out of the park. Henrik was really into a zone dropping mostly elements of his productions. It was great to hear some of my favorites like his remix of Omar's "Feelin U", Detroit Experiment's "Think Twice", his Bill Withers edit, and hmmm… he killed everyone with a remix of MJ's "Wanna be starting something" (Check out my Interview with Henrik Schwarz)
Sunday June 6th
Pepe Bradock, Theo Parrish
When I saw the lineup a few weeks ago, the booking that stood out was Pepe Bradock. 1) He's probably my favorite house producer of all-time 2) He had NEVER been to Montreal. Originally booked to play about 1h30, he unleashed a 3 hour set. You could tell he wanted to make it count.
It was like a geography course of the history of house. There was some new stuff like Floating Points, there was some old classics like Pal Joey, Masters At Work and Armando. We visited Detroit Techno, Chicago Acid, New York Garage, New School London and of course the golden years of French House. Class was in session and I hope you all took notes…
And Theo Parrish… hmmm, well. What can I say about that one. I went home after the Pepe Bradock show, was supposed to disco nap. It then turned into a power nap, and then to just straight up out cold. I'm mad. So mad… (other stuff I missed out on: Ben Frost, Moritz Von Oswald and my good friend Bowly. Arrgh!)
Concluzzzion
Congrats to Mutek for putting together a really solid lineup. Congrats to the artists for living up to it.
To end things on "constructive criticism" note : Montreal peeps: If you suddently think people like Theo Parrish, Pepe Bradock, Ikonika are great… why not go and support the Montreal Djs and artists who push this sound, all year round?
If you liked the Detroit Tech, Disco Boogie of Theo Parrish or that real house shit from Pepe Bradock go and support people like Christian Pronovost, Uzi, the Night Trackin' boys, Pat Boogie. You like UK Garage, Funky and Dubstep? then go and check out the ESL boys, the Future Garage Collective, the Swing and Skip party and so on…
You know what i'm saying? We got dope shit year round! Support your MTL peeps!
See you in 2011 Mutek!