Poirier ft. Boogat "Que Viva" Video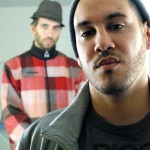 Just in time to declare the harsh Montreal winter as officially over Poirier releases the video for one of the most succesful tracks from his 2010 Juno Nominated record titled "Running High".
Poirier is one of the guys who reps the hardest for his home base of Montreal and while "Get Crazy" was a tribute to Montreal winters this one is definitely a showcase of how awesome our city is from April to November! Boogat is a veteran of the Montreal scene and does it proper, repping for Plateau, Mile-End and every where in between!
"Dios Mio Que Viva en Montreal!"