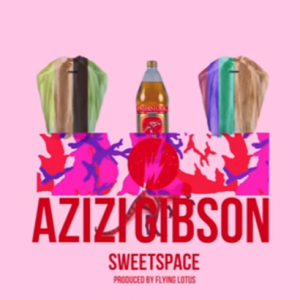 I was brushing up on recent hiphop releases and wasn't finding too much to get excited about and then the opening melody of this track came in and my ears perked up. Only a few bars into it I recognized the beat as the outro to Flying Lotus' outstanding collaboration with Earl Sweatshirt "Between Friends". I remember loving the track and losing my mind to the 20 second outro beat.
I was like, you know a producer has mad beats lying around when he just tosses a bit of geniusness at the end of another track. Kind of like: "Ohh, I just found this in a random production folder"
Well it turns out it wasn't just an outro after all, he gave this beat to LA rapper and new Brainfeeder signee Azizi Gibson. Definitely above average MCing here but honestly I think tons of people would have killed this, including another Cali MC who I won't name… ok, i'll say it: BLU!
But for real, all love. This is a beautiful track and we'll definitely be keeping an ear out for young Azizi Gibson. I am glad to hear this is an "official" Flylo collabo and not just someone stealing a beat and claiming that there is a partnership. (Young MC's stop doing that shit!)
Free Download