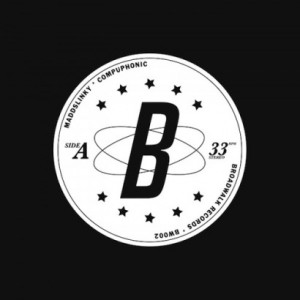 I am genuinely taken aback that I have not yet written about one of my all time favourite producers. Time to change that. David Jones, aka Zed Bias, aka Maddslinky, aka one half of Phuturistix, is one of the reasons I fell madly in love with UK Garage, and never looked back. He has consistently been a game changer in the world of the UK underground, and has continued to drop next-level dance monstrosities to this very day.
Jones' latest brain child, "Compuphonic", was spawned from his arguably more eccentric moniker, Maddslinky and is coming at you from Julio Bashmore's exciting new label, Broadwalk Records. Bashmore and the ever growing wave of new producers making UKG influenced and hybrid house beats these days undoubtedly owe Jones a nod of respect for pioneering these sounds, and keeping them fresh and exciting throughout the years. So this one is a convergence of two generations, and a beautiful one at that.
A spiralling pitched synth grabs your stomach from the get go, initiating a journey you will not want to end. The intro is speckled with what sounds like the chimes of robotic arppegiated avian lifeforms, a jungle of bleeps and synth stabs that rise into a chorus of computed wonder, before falling away, into a slyly orchestrated drop. A bassline erupts, surprisingly unexpected but completely fitting with the landscape created in the first minute and a half, and takes firm hold of the lower end of your belly. The atmospherics of the track are a work of genius and exquisitely aerial in their form. Each piece can hide behind the other, be completely autonomous or an all encompassing madness. From the flowing arpeggiated bubbles to the 4×4 rhodes stab, every element seems to be repeatedly melding and separating from the other, an electronic circus of computer sounds.
Digital is released exclusively on Beatport September 9th. The wax follows on 23rd. Get dat!
http://www.youtube.com/watch?v=t081sCXOKQI