Eddie Hinton fits right into to the Forgotten Treasures section. An overlooked musical talent that was destined for big things which unfortunately never materialized. Legendary record man Jerry Wexler once called him "the next big thing" after hearing him play a studio session.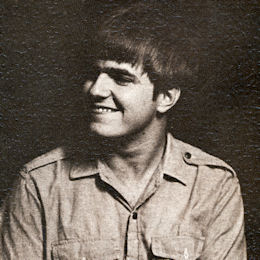 Wexler also later referred to Hinton as "the white Otis Redding" and in the 60's a comparaison like that was necessary because there wasn't a ton of white artists singing pure Soul songs or as it's sometimes called "Blue Eyed Soul". Since those days, it's become a pretty common thing: Alice Russell, Amy Winehouse, Adele, Jamie Lidell are a few examples.
Hinton had huge potential as a solo artist but his biggest accomplishements are as a studio musician for  legends like Wilson Pickett, Elvis, Joe Tex, Aretha Franklin and countless others. He was the lead guitarist for the famed Muscle Shoals studio band from 1967 to 1971. There is a great documentary on Muscle Shoals, we highly recommend it!
"I Can't Be Me" is a timeless soul song that follows the blueprint of the 70's Soul & Country music. It also has a bit of an interesting, but sad story. It was recorded by Hinton with just his guitar in 1980 but never got released. After Hinton died in 1995, his buddies from the famed Muscle Shoals Studio added on in 1999.