Elaquent's Beat Odyssey Continues With His New Album "Worse Case Scenario"
Canadian Producer / Beatmaker Elaquent's returns with his 5th album since his fantastic debut "After Midnight" released in 2009.
The new album titled "Worst Case Scenario" might be his finest work yet. It showcases his sonic growth and is also a very introspective exercise.
"…going on 30, no longer feeling like you're invincible, everyone is getting married and living a completely different kind of life. I don't want to get old, wondering whether I did everything in life that I wanted to do. This album, Worst Case Scenario, it's the idea that if all else fails, I'll know that at least I was able to do all these amazing things in my life". -Elaquent
Below is an exclusive track taken from the upcoming album along with a conversation we recently had with the Canadian producer.
@MIMSLexis: "Worst Case Scenario" is your 5th solo album in 7 years. How does it feel to put this one out? How do you think it fits into your discography?
@Elaquent: Personally I think it's among the best of my discography… perhaps because I have more of a personal attachment to most of the songs. It really doubles as an audio journal or diary of the last couple years of my life so yeah, I'm super happy with it.
A lot of it was made on the road right?
@Elaquent: Yeah a good chunk of it I made sitting on the train, making the rounds in Europe this year, as well as on the plane/ in airports.
I can just picture you in an empty airport terminal with your trusty SP-404 working on these.
@Elaquent: Yeah the looks I received trying to juggle the 404 and the Launchkey on my lap was jokes! [laughs]
You've always been associated with the SP-404 from the very start, is it still at the heart of your production and your performance set-up?
@Elaquent: In terms of production itself, not as much anymore. I use it more for sampling and a couple effects, but the bulk of its usage is mostly performance. I still have lots of fun using it live, but I've been incorporating other aspects with it to freshen things up. I've been using an iPad (and various apps) for a while, along with the Novation Launchkey. I'm doing some trial and error stuff to try to figure out something a little different.
Getting back to life on the road, you've been touring quite a lot these past few years! Europe, Asia, US… Did you ever think you would make it to that level when you started out?
@Elaquent: I never did. Especially just playing beats, I figured I might be able to play the odd show across the border here and there but mostly just stick to playing hometown gigs. I've been fortunate to be able to see parts of the world I never thought I'd ever see through my music. My father travelled around the world for work growing up, and I always wanted to get that experience for myself in my own way. It's humbling to visit places and meet people that don't even speak English but they embrace you for what you do. There's nothing like it. That's definitely the best part; you learn a lot about yourself and others when you're in an unfamiliar place. You forget how big the world is sometimes.
On the flip side, touring often results in being in fascinating places for very short periods of time. Sometimes you only get to see the airport-hotel-venue before you're gone. Furthermore, the constant travel definitely wears you down over time, but the good stuff always outweighs the bad.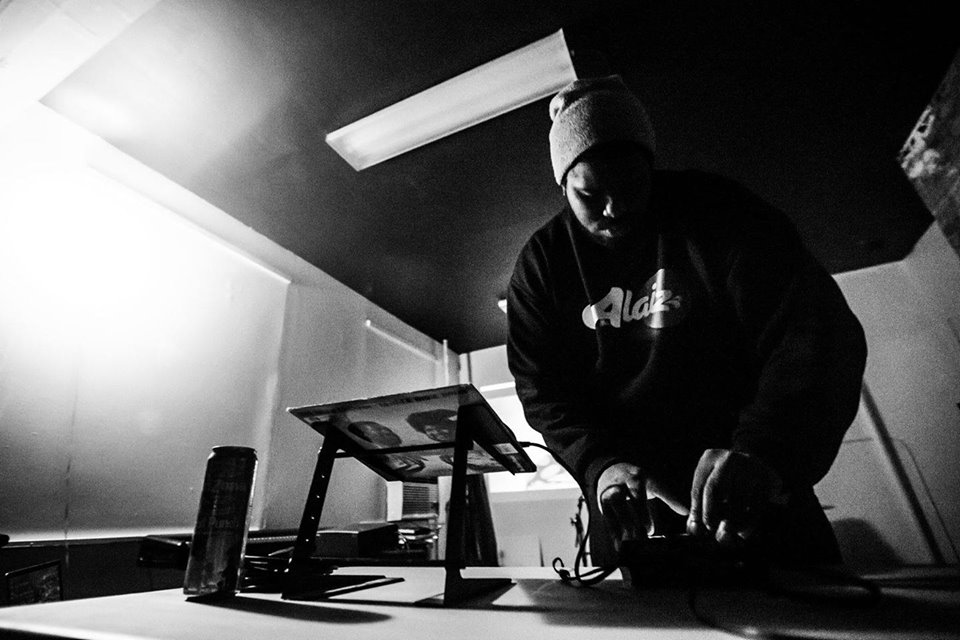 The "Beats Scene" community (both the producers and the audience) is a very tight knit one right? Other than the occasional internet beef, is everyone pretty supportive of each other?
@Elaquent: Definitely. For the most part, it's a pretty tight community. Especially given how many producers "graduated" to the limelight so to speak…I think everybody lives vicariously through each other. Everybody is rooting for everybody to excel. There's no greater feeling than seeing some of the guys from MySpace get placements and sell out festivals.
Do you feel the "beatmaker" label still applies to you? Is there more of an effort on everyone's part to move beyond just making beat tapes and move into making full albums?
@Elaquent: It's all semantics. I've never been bothered by the name "beatmaker" as opposed to "producer". At the end of the day, I make beats! I try to make albums that tell a story, emit an emotion, all that. I think everybody should strive to make albums as opposed to just beat tapes, but as long as it's good music, that's ultimately all that matters!
For the new album I've got 2 vocalists (a l l i e and Iman Omari) a producer (Budamonk) and a pair of live musicians (Octavio Santos & Goyama) featured.
You've mentioned Dilla and Premier as early influences. Can you tell me who influences and inspires you these days?
@Elaquent: Mostly my peers. Mndsgn has been probably the biggest one as of late, but I've been big into Knxwledge, Kaytranada, Devonwho, Evil Needle, Samiyam, Dibiase…too many to name, really. Lakim too.
Speaking of Dibiase, I see you guys arguing on Twitter about sports all the time… So prediction time: Who's winning the NBA Finals, Who's winning the super bowl?
@Elaquent: [Laughs] Shouts out to Dibiase. I've got Cleveland vs. Warriors III, and I've got Cleveland winning again…I've got Patriots vs. The Seahawks II in the Super Bowl, and I've gotta go with my Hawks to get that 2nd ring!
Yes sir! Well, thanks for the time. Best of luck with the new record, it's been great to witness the rise of your career since the very start!
@Elaquent: No no, thank you man, the feeling is mutual! I see you are touring heavy as well.
+++
"Worse Case Scenario" is out December 2, 2016 via URBNET Records.
Pre-Order Album