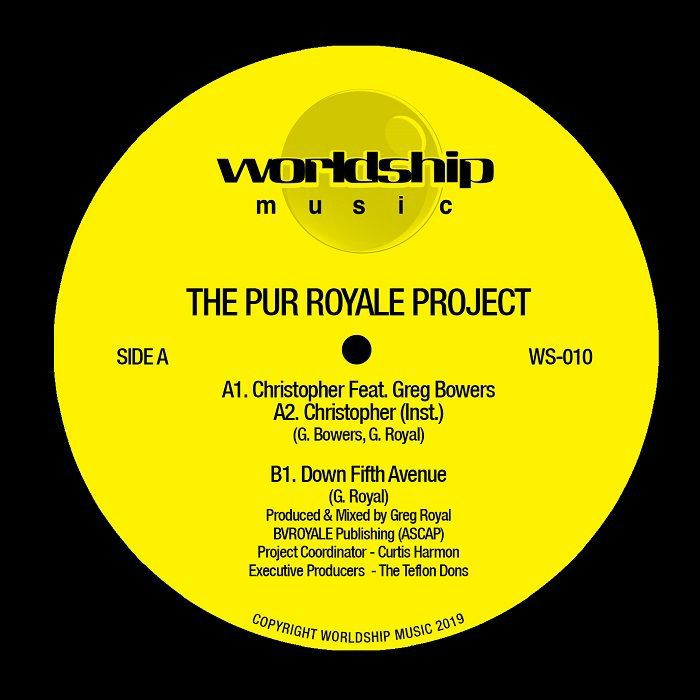 Exclusive Premiere: The Pur Royale Project "Christopher" (Worldship Music)
After a nearly 20 year hiatus, Aaron Paar's Worldship Music imprint is back in full effect with its 3rd and final release of 2019. Greg "Ski" Royal, the mixing engineer for all of the Teflon Dons releases to date steps from behind the mixing board to flex his production chops on this 3 track 12".
With remix and production credits dating back to 1984, including the dub mix of Patrice Rushen – "Feels So Real (Won't Let Go)", Greg is no stranger to soulful, groovy music, but was mostly known for his hip-hop and R&B remixes.
However, in 1994 under the Royal Phenomena alias, Greg released a self-titled deep house EP in extremely limited quantities. "The Pur Royale Project" EP features "Down Fifth Avenue" from the aforementioned 1994 record as well as "Christopher", a previously unreleased song of the same era featuring Greg Bowers on vocals. Both tracks represent the rugged garage aesthetic championed by Worldship for decades, and fit perfectly into the DJ bags of the true-school deep house aficionados who are fans of the Teflon Dons sound. This 12" brings the "unfinished business" chapter of the Worldship story to a close, but keep your ear to the ground for more quality from one of dance music's unsung heroes, the Teflon Dons.