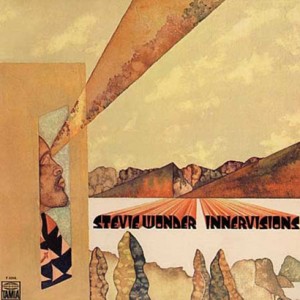 You know one of those days that literally never seem to end. You've been up since 6 and still have a thousand things to do. Well it was one of those nights when I made my way up to Studio Soulafy to drop something off for a friend at practice. To my pleasant surprise the talented Mr. Fredy V also happened to be in building and as he greeted me, he hummed Stevie's Forgotten Treasure 'Golden Lady'. Wow what a nice blast from the past. As he sang my mind was back in '73 watching Young Stevie, with his iconic glasses and sideburns, just ripping up that keyboard solo. Classic.
I think it's globally agreed that no one can touch Stevie when it comes to writing love songs I mean seriously 'A touch of rain and sunshine made the flower glow, into a lovely smile that's blooming'. Get's me every time. Oh but there's so much more to this great ballad. The instrumental layering, the tempo changes, and the synthesizer, ahh the synthesizer! Such a powerful instrument that it can easily turn on you but by this album (Innervisions) Stevie had mastered its art.
As I was walking home I wondered why that piece would've been on Fredy's mind and it hit me. Unsung. The monthly event that Fredy V and the highly talented Meryem Saci have started at Le Piano Rouge in Montreal. Once a month you can catch these two powerhouse vocalists, accompanied by Caulder Nash on the keys and Ronny Ddrums on the drums, revive forgotten treasures as well as showcase their own future classics. The first two were absolutely insane and if Fredy's bringing out the big Stevie guns I'm sure the third installment will be epic. Friday the 28th is right around the corner so be sure that you don't miss out.
Thank you Fredy, this track has been my theme song ever since.
---
+ Bonus: a really nice edit from the UK's SCRIMSHIRE