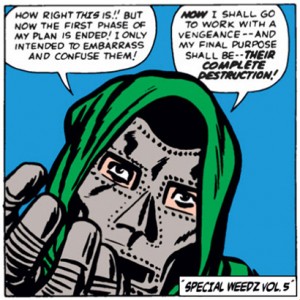 Tribute projects were never a really a big part of hiphop culture. Of course, a lot of rappers shout out many other MC's, crew, family, and all sorts of random people in a sign of respect. But a complete album dedication to one great artist is rare. Maybe it's saying more about the state of the concept album in hip-hop though, or maybe it's something that will be coming in 20 years. Tribute to Snoop, Jay-Z and so on… (eeesh!)
I've always liked the simple but oh so effective beats of MF Doom. R-A-W! I'm always happy to listen to the newest volume of the homage series dedicated to the metal faced vilain's beats by french beatmaker Canya Reial. More than past volumes, Special Weedz Vol.5 (yeah, he went there!) sounds like new instrumental music by DOOM himself. There is even the little cheesiness in the choices of samples like on many of Special Herbs' beats. Well' "cheesiness" is such a strong word. A little je ne sais quoi.
And once again, like so many great records in 2012, it's FREE!