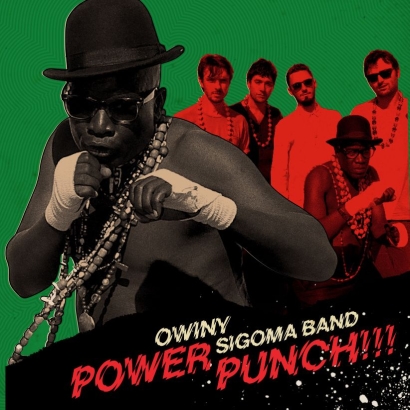 Future Classic: Owiny Sigoma Band "Power Punch" (Brownswood Recordings)
Usually when I say that a record or a song is "interesting", it's a polite way of saying it's not really my thing or doesn't inspire any sort of overly positive or negative reaction. But when it comes to the Owiny Sigoma Band, for once I really mean it!!
When you listen to O.S.B, it's really the juxtaposition of African elements with the European electronic influence that jumps out at you. I guess it would fall under what certain people call "4th World" : "a style of music employing modern technological treatments and influenced by various cultures and eras". Personally we love that approach of hyper fusion of styles and cultures. Just perfect for our short-attention span generation, the curve balls keep us mentally stimulated!
Owiny Sigoma Band – led by frontman Joseph Nyamungu – is releasing "Power Punch" which is their second LP released on Gilles Peterson's mighty Brownswood Recordings. "Nyiduonge Drums" is the B-side to the first single called "Owiny Techno" and definitely the most electronic of the record, it's an instant classic in the same vein as Dj Mujava's "Township Funk". The kind of track that will get some massive plays from soul&funk DJ's to the big room house kinda people too. I have a feeling we'll be hearing this track a lot this summer! (Please note that this track isn't on the LP, just on the 12′ single)