"Club culture has changed a great deal over the last 30 years. Nowadays, DJ's become household names in a matter of months. True players like Theo Parrish, Louie Vega, Harvey, or Francois K – DJ's that can play for 10 hours straight – are hard to come by… but in both Simbad and Lefto, we have two new players who can play in that team and keep club culture's left side strong for years to come. "
"DJ of the year year – 2011"
Gilles Peterson (BBC, Brownswood, Worldwide Festival)
Those are some pretty strong words from one of the top international tastemakers on the planet. You know you're doing something right when you garner such praise form a perennial player of Gilles Peterson's stature.
If you're in the know, chances are you already know who this bearded Belgian DJ is. If not, don't fret, we got you covered. Lefto is one of Europe's finest exports over the last few years. On top of running one of the most successful radio shows for over ten years on Belgium's foremost national radio station, Studio Brussell, he also curates for international music festivals such as Gilles Peterson's Worldwide Festival and the Dour Festival.
On top of compiling albums for Blue Note Records and Brownswood recordings, he's already launched two additional compilations in the last year; one for American clothing brand 101 Apparel and another for Universal Music. Further proving just how well his skills and musical tastes are respected worldwide.
Finally, I think his demanding tour schedule is a testament on how good he really is. Just in the last couple of years alone he's been all over Europe, Montreal, New York, Chicago, Los Angeles, Las Vegas, San Francisco, Oakland, Tokyo, Rio di Janeiro and Manilla.
I think these two videos alone, solidify how Lefto can rock any kind of party at anytime: https://vimeo.com/28918291 + https://vimeo.com/26265503
---
Interview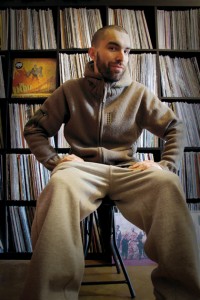 Evo: What was your initial exposure to music?
Lefto: Growing up to the sounds of my father's jazz collection was a daily morning ritual, he used to put that one record by Stan Getz a lot entitled Focus on Verve Records I think it was.
What was the first record you ever purchased?
My first record was probably a New Beat record, a pre-techno genre of music we introduced to the world basically. That was a very interesting time for music – we had the Volkswagen logos on our shoes that we stole off the front grill of the cars.
When did you make the jump to DJing?
In 1995 I started to get into that, father bought my first Technics turntable and practised my mixes from tapedeck to turntable.
I've been a big jazz head my whole life. How I actually found out about you was the remix compilation you did for Blue Note back in 2004, "Out of The Blue". How did that opportunity come about?
It was around the time Madlib put out his remix record. Initially they asked me to make a compilation, i proposed them a remix project – which they agreed to. The craziest thing about all this is that they actually took the demo version for that record, all good though!
Since we're on the topic of your production, anything new in the works?
Nothing much really even though i've been offered an album proposition release so knowing that I might just work on it. It will probably sound like something between hiphop beats and world music.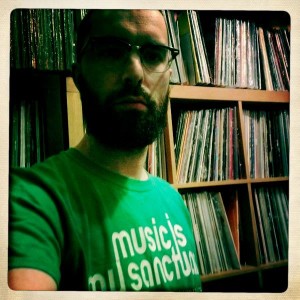 You seem to be heavily involved with Brownswood and the Worldwide Festival. How did your relationship with Gilles Peterson come about?
Gilles saw me play a couple times and really wanted me on his festival – from the festival i've been asked to be a resident for it, i've done more stuff for Gilles and we basically stimulate each other's creativity I think, it's a healthy relation.
I'm always amazed and inspired by your work ethic; hosting a weekly national radio show, bouncing around the globe for gigs on a regular basis, being super involved with numerous music festivals and labels, as well as compiling pro grade video shorts of your travels – How do you manage such a demanding schedule?
You need to master time, and work very fast, efficiently! That's the key… I don't have a twin brother.
What would be your top five albums of all time and why?
That question is simply too difficult to answer, too many, i'd take a great jazz record, soul record, two rap records and a brazilian record.
I know you've played Montreal a couple of times now. Will this tour mark your first time ever visiting Toronto and Vancouver?
Yes, both cities are new to me and I'm really looking forward to it. Heard a lotta good things about Toronto and Vancouver.
So what can we expect from Lefto in the future?
I guess more compilations, mixes, films, an album why not, and more goodies…
Anything else you would like to add? Any closing words?
Thank you for having me, and see you soon.
---
Lefto Links
Lefto.be
Lefto on Twitter
Lefto Radio Show (Mixcloud link)
---
Don't forget, you can catch Lefto on the Canadian leg of his North American tour on Nov. 16th in Toronto at Supermarket with John Kong and mymanhenri, as part of the Do Right! ten year anniversary celebrations. You can catch him the following night in Vancouver, joining myself and Luke Mckeehan at the Electric Owl, presented by Nordic Trax and Beats Without Borders.