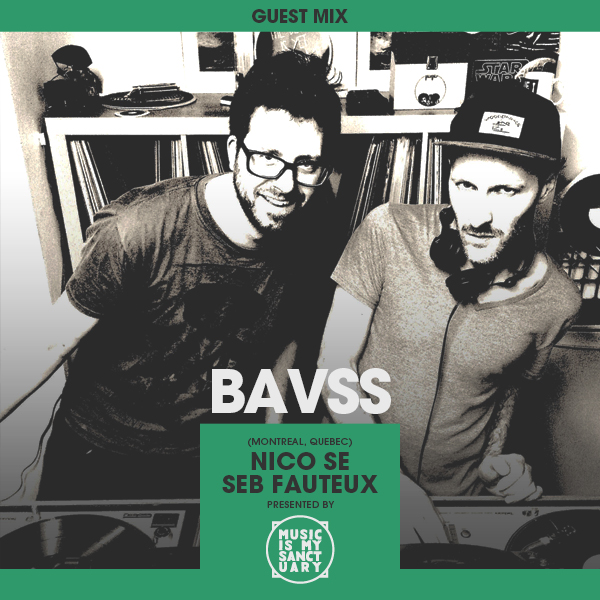 MIMS Guest Mix: BAVSS (Bar À Vinyle, Montreal)
For the newly founded BAVSS (Bar à Vinyle Sound System), the musical approach is based on different shades of House music centered around Groove and Funk.
The two long time friends and even longer time music lovers are DJs and record collectors with an eclectic and open approach to the music they like to play and share. The duo is an homage to the the now defunct Bleury Bar, the lovely Montreal music boutique bar for music heads where out of towners like Sprinkles, Eddie C, Spinna, Tim Sweeney, Francois K, Bonobo and more loved to play. It was host to great regular nights like Voyage Funktastique, 24 Hours Of Vinyl, Music Is My Sanctuary, Fly Ladies, Oasis, etc.
TRACKLIST
1. DJ Sotofett "Version (feat. Jenz Wohlrab)"
2. A Certain Ratio "Crystal"
3. Bella Boo "It Is Rude To Wear My Shades"
4. Daisuke Kondo "Passion"
5. DJ Koze "Pick Up"
6. Nick Wisdom "Feelin' Alright (Instrumental)"
7. Marcel Vogel feat. Khalil Anthony "Brown Curls"
8. Oeil Cube "Pistache"
9. Yu Su "Soon (Moa Mix)"
10. Larry Heard "Missing You (Larry's Jazz Cafe Mix)"
11. James 'Creole' Thomas "Creole People"
12. Sam IRL "Forward"
13. Iwabo "Reggae Down"
14. Neue Grafik "To Peckham Rye"
15. Will Dimaggio "All Good (Jazz Mix)"
16. Yu Su "Make Your Escape"
17. Unknown Artist "Date With The Rain (Soft Rock one for the lion king manipulation) Black Rox 004"
DOWNLOAD LINK