We've been following filmmaker Gus Sutherland's exploits for a while now. Earlier this year, we dropped the trailer to All Ears, his documentary on the L.A. beat scene. The All Ears UK premier took place yesterday, so I took the chance to catch up with Gus on All Ears and talk about his new project, The Unseen.
N.B. For the sake of clarity I've used the term 'beats' throughout, but please feel free to argue it out in the comments section.
How did you find your way into beats?
@GusSutherland: Instrumentals of rap records got me into it, without any knowledge of how they were made at the time. Hearing Madlib on Gilles Peterson's show in the late 90s/early 2000s really put me up on beats and finding out where the sounds were coming from.
And what about Dilla? He plays a big part in All Ears.
GS: I'd say Dilla brought the prolific work ethic that inspired a lot of people. Also, the idea that a lot of his music sounds perfect while being really understated gave a blueprint for the whole culture. It's hard to think of anyone else being more influential in hip-hop.
True, particularly for L.A. producers. Do you think there's been a vintage period for beats yet? Any records with classic status?
GS: I think it's hard to tell if there has been a vintage time for beat music. I guess people are always most attached to movements when they're smaller and less saturated. The compilations that first alerted me to a lot of people I met through All Ears were Carlos Nino's Sound Of L.A. 12"s (2006). It can only be a good thing when people experiment and grow, but there's an appealing immediacy in the early records that seem to capture a lot of what I still love about the music.
I loved Flying Lotus's earlier stuff – the Reset EP – but I struggle with some of his newer records. Are you up on more recent releases?
GS: I struggle to keep up with what everyone's doing, but I really like what I hear from most of the L.A. producers. I think Flying Lotus is a great frontman for the community, as he always seems motivated to make something different. That's reflective of the spirit of the place, I think that's important.
Can you talk about Dak? I've picked up a couple of his tapes but there's a huge focus on him in All Ears. What is it about him that excites you?
GS: Dak seems to encompass a lot of what I was thinking about in Flying Lotus: the need to always do something different, not in a conscious way but very instinctively. Anyone who has all his official releases has probably only heard a few percent of his recordings. I'm told there's way more in his mum's basement. He's so natural in the way he expresses his motivations, it's refreshing to hear someone so completely devoted to music in a way so far removed from the music industry.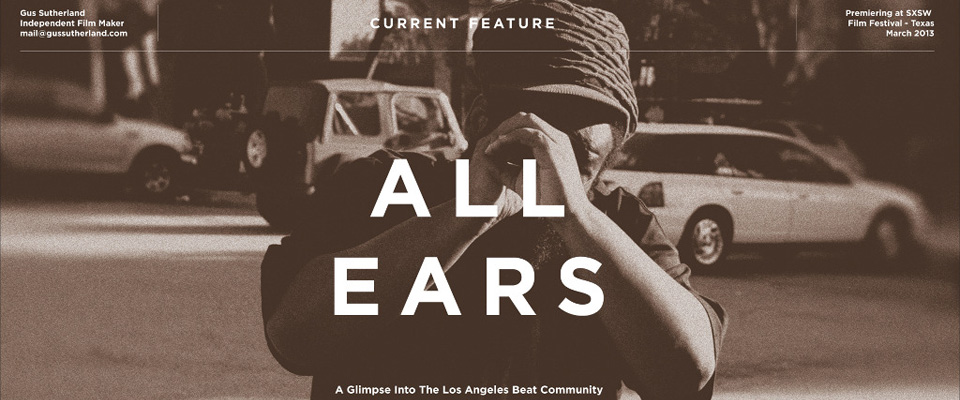 So what do you think is next for the LA scene and the Low End Theory crew?
GS: I'm maybe not following it all that closely at the minute, but the club night is still a massively important fixture in the music. Whatever direction things go in, the guys running Low End Theory are so knowledgeable and open that it can only continue to grow and evolve, as Gaslamp [Killer] said. I'm usually most excited to hear music from people who don't release much. I've been waiting to hear new Ta' Raach music for some time and Zeroh's incredible; really keen to hear more of what he's up to. Also, Yuk from My Hollow Drum is worth keeping an eye on.
You've got a new documentary on the way: The Unseen. Where did this start for you?
GS: The Detroit thing has been in my head for ages, I guess ever since meeting House Shoes and Dak. They've introduced me to people I might have never have heard of otherwise, producers as obscure as the records they sample. The idea that some people are content with having no Internet presence while quietly mastering their craft is intriguing. These are the same qualities that people associate with Dilla and Madlib: music over everything.
Aside from House Shoes, Waajeed and those you already have lined up, who else are you keen to speak with?
GS: It's something that I want to keep as open as possible. In L.A., I was talking to Ron Stivers (who runs Poobah records) outside Low End Theory about how Dak's music had been the craziest I'd heard all year. I'd also been told he wasn't sociable so there'd be little chance of meeting or even less interviewing him. Ron told me "he's right behind you" and we got talking.
Sounds like it pays to keep it loose. Are you planning to visit any Detroit landmarks?
GS: Having been to Detroit once already, I really want to get back to Slow's Barbeque. I was all ready to sit down and eat there last time but had to leave and ended up, tragically, at a Taco Bell drive-through hours later. I'm definitely keen to visit Lafayette Coney Island too.
I guess you're focused on Detroit for now, but any ideas where you might turn your camera next?
GS: As far as other beats related projects, I had the idea of looking at the most random unconnected places where people are working, looking at things internationally. We'll have to see, but if that idea's still there after this project it's definitely worth doing.
---
All Ears is showing at The Montpelier in Peckham, London for the next couple of weeks, with showings across the USA and a release on the cards soon. The Unseen documentary is due to air December 2014. You can help support the project via Indiegogo, and stay up to date on Gus's movements via his Twitter page.