Nite Jewel Proceeds Authentically With "Real High"
Six years in the making, Nite Jewel's forthcoming "Real High" is a testament to her grinding work ethic.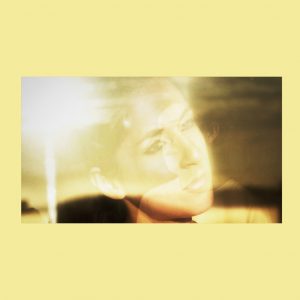 On the heels of embarking on a 37-date international summer tour, Ramona Gonzalez aka Nite Jewel has produced a cogent, fluid and austere release. Dance-floor-fit, moody synth-pop creations and slow jams that prefer experimental presentation. All the components that we joyfully expect from Nite-Jewel. "Real High", which will be released May 5th on her Gloriette imprint is her most confident piece of work. It carries earnest intent to defy one specific categorization… and then it just crushes with its infectious "hooks fer days" winning formula. We were able to speak with Nite Jewel regarding her fast approaching release.
There is a plethora of exceptional Nite Jewel music out there now. In addition to her fast approaching release "Real High", you can also find her companion EP "Obsession" on Italians Do It Better out of Portland, the beautiful single "Rinse Cycle" on Elusive's Fusion Swing which dropped in March, and I just caught the video for "Confess To You" with Omar S.
---
How long has this Nite Jewel takeover been in the works?
[Laughs] Well that's how things happen, don't they? You reside in silence for some time thinking no one will ever hear your music again and then all of the sudden everything you've been working on comes to fore. I wrote the title track from "Real High" in 2011, so you can imagine. Since writing that song, I've done a ton of music on my own and with some collaborators. Suddenly everything just hit the public. I didn't really know it would all be at once, but I like the perception of being prolific and musical. Like you thought I was just chillin' that whole time? Nope I was grindin!
The album "Real High" has a serious, mature dance vibe to it while at the same time retaining that funky bass line movement like in "What Did He Say" from 2009. What was your recording process for this record?
It was at once a lengthy process and very immediate. Like I said, I recorded the title track in 2011, all at once, very old-school Nite Jewel demo style. Somehow it just stuck in my mind as being this centerpiece of an album, and the style of the album should be a soulful jam made of few elements. I continued to record around that song, writing tons of tunes with and without Cole. I even finished a version of this album in 2013, but decided against releasing it as I felt the overall production wasn't right. It was too busy and overwrought. Flash forward to this past fall, and I was ready to re-approach these songs. I stripped them of all the over-production and then wrote a bunch of new ones to supplement (like '2 Good 2 Be True'), but I wrote these very fast, like within a week or so. I wanted them to sound inspired and off the dome, not over-thought. The record combines the rawness and newness of that writing style with the long-term progression of production ideas and honing skills.
Droop E said in an earlier interview that your music is feel good music but at the same time deep, which is a perfect description of '2 Good 2 Be True'. On the surface, it is an excellent crafting of a pop song but then pull back from it a bit and you immediately understand that this could easily work its way into a house music set with little manipulation. Were there any specific artists you were listening to before starting this project?
With '2 Good 2 Be True' it just all happened so fast it's hard to remember exactly what inspired it. I think the main thing that influenced the vibe of it was from DJing a lot in the past couple years and thinking about how the music would fit into one of my sets and what people would feel from it. Obviously I love to play retro tracks, but I'm also into all types of new underground dance music. I wanted to make a song that could span some pop track from the past with the throbbing warmth of something new.
How important is it for you to keep up your own imprint/label?
My label has been the sole vehicle for my music since the beginning. It started with Gloriette and it will end with Gloriette. Some labels may get on the bandwagon here and there, but they never will have the kind of heart for my music that I have. The only reason to mess with a bigger label is for the money and the placement. They don't have any clue.
So I'm stealing this question from an interview you did with a great writer and DJ Allen Thayer a couple of years back for Wax Poetics because I'm just curious if things have changed: Is Nite Jewel the same as Ramona Gonzalez?
I wonder if I'm going to answer this exactly the same as I did before [laughs]. Nite Jewel definitely acts as a vessel for me to express my personal thoughts, but the persona of Nite Jewel does not encompass every aspect of me as a human being. I have so much music in me; I could (and will!) have a plethora of projects to express all of that over time. The thing that makes Nite Jewel special is that it's fun music, but it's also music I get to express my weird ideas with. So Ramona Gonzalez gets to get her personal agenda across, but there's more to me than just this project.
I have read in your past interviews that you really don't like to collaborate that much with other artists. I understand your husband, Cole M.G.N, former guitarist for Ariel Pink's Haunted Graffiti, has been a part of the "Nite Jewel" project from the jump. Dâm-Funk, Droop-E, and Julia Holter have contributed on this as well. These are four very distinct artists. What is the common thread that makes you enjoy working with them?
Realness. I've met a lot of people in the music industry and when I find a real one, I gravitate towards them. This has to do with attitude and presentation of oneself. Also, the musicality of these people is what draws me to them. They are completely unique. They have their own voice, and it's intoxicating to work with them.
Is there any possibility of new Nite-Funk projects in the future? "Let Me Be Me" was the knock!
I hope so! It's important to just let things happen and not try to push them where it's not needed. We took 6 years or so to wait for the right time to make the EP and it turned out amazing. So I'm sure we will hook up again when the time is right.
Well thank you for taking the time to do this. All of the new music you have out there now is intoxicating. Much continued success, and good luck with the release of "Real High"!
Thanks!
---
Follow Nite Jewel: