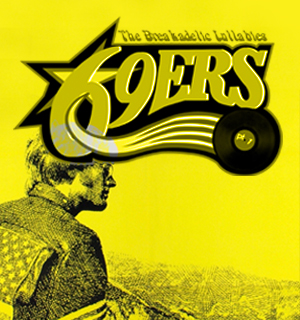 69ers is a collection of trippy songs that all have one thing in common, their release year. I tried to explore every aspect of 1969 with a worldwide perspective. At that time, a lot of psychedelic bands were coming out of Argentina, France, Korea and pretty much everywhere. In Germany, the birth of a very important movement called krautrock was also taking place. Protopunk bands were slowly making surface in the UK while funk and soul was getting more and more attention in the US. The Woodstock festival took place in 1969, bringing together many musical legends. It is also where J.D. Smart, the drummer who played with Mountain made one of the most popular live recorded drum break while performing Long Red. "You out there? Louder!"
I tried to concentrate my selection on freak sounding tunes containing heavy breaks. As a matter of fact, the first break that I ever sampled was from one of my dad's 45 which was Honky Tonk Woman by the Rolling Stones, also from 1969. I intentionally left out well-known songs from my selection, although you will probably be familiar with some bands that are part of the mix. This project was put together in several months of break diggin' and obscure sound sorting. I mainly focused the musical direction on progressive and popsike rock, while avoiding known funk breaks such as Soul Pride by James Brown.
Some of my favourite soul records (Isaac Hayes, Dionne Warwick, Marva Whitney, etc.) are from '69, but The Breakadelic Lullabies was an exercise for me that consisted in forgetting what I already knew about that magnificent year. Even though the Meters, the Mohawks and the Family Stone were at their peak, this was not meant to be a funk oriented project, although there is something funky to it. I also excluded Jazz from my final picks, but kept the sound experience filled with soulful, bluesy and jazzy vibes. Hope you enjoy the trip!
Check out Part 2 of the 69ers Mix
69ers : Breakadelic Lullabies Part 1


1-01 Temptations – Psychedelic Shack
1-02 Joy Unlimited – Feelin'
1-03 The Grassroots – You and love are the same
1-04 Audience – Paper Round
1-05 Jan & Lorraine's Lullaby
1-06 Tyde – Lost
1-07 Hauntendo (interlude)
1-08 Delta Blues Band – You don't know my mind
1-09 Almendra – A estos hombres tristes
1-10 Rita Lee's Lullaby
1-11 Dick Hyman – Give it up or turn it loose
1-12 François De Louville – Hot Pot
1-13 The New Colony Six – Free
1-14 Turtles (interlude)
1-15 AB Skhy – Love isn't
1-16 Fear Itself – Billy Gene
1-17 Bruce Haack – Saint Basil
1-18 Ray Davies' Lullaby
1-19 Climax Blues Band – Flight
1-20 The Shiver – Repent Walpurgis
1-21 Michal Shapiro's Lullaby