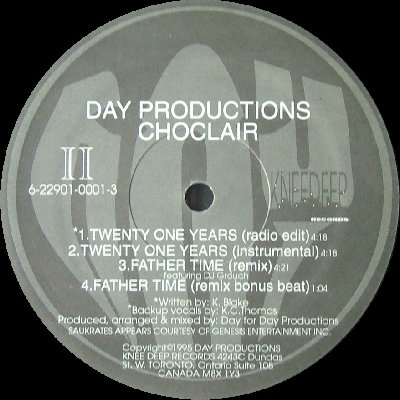 Forgotten Treasure: Saukrates / Choclair "21 Years / Father Time" (1995)
Ok, this is the first of what I hope to be weekly theme oriented "Forgotten Treasures" selections. Starting things off nicely with long forgotten CANADIAN gems. We gonna bring heat from all angles and show you all that there tons of dope shit that came out of here.
So here it is: Monday Selection. I'm starting things off very strong with one of the most outstanding underground 12's ever. The double sided awesomeness of Toronto's Saukrates and Choclair from way back in the golden era, 1995 son!
Choclair's "Twenty One Years" was also featured on the Dj Premier compilation called "New York Reality Check 101", the track is produced by Day, apparently Choclair's manager. Classic straight forward boom bap riddim + sample. Pure Sony walkman material!!
Saukrates is dead serious with "Father Time". Straight up alley with dark hoodie shit! Both undeniable tracks. If you ever see this 12″ scoop it up in a second eh!?