Our faithful readers know that show reviews is not something we do very often. We don't really see the point of them you know; if you were there then you don't really need to read it and if you weren't then you're just pissed off you missed it.
But there are special circumstances. When we go check out a show and that it really left a profound impact on us, then we feel the obligation to write about it, if not just for the sake of not forgetting about it.
So, let me start by saying how much of a longtime fan I am of Moodymann. I have been buying most of his records since I started DJing in early 2000. I've always been quite fascinated by the dude who is as much of a personality outside the DJ booth as he is inside of it. He's done interviews while being in bed surrounded with girls, while getting his hair braided and is pretty much constantly on the mic when he is DJing shows.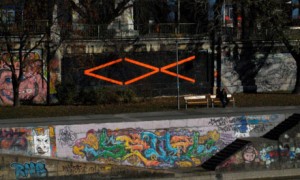 I was in Vienna for my third night of DJ-ing and hanging out with Mr. Guan, founding member of The Loud Minority collective, and after we finished our night we headed out to this fairly new club in Vienna called Grelle Forelle – a really slick place with a lot of attention to details and design. That and a big booming sound system that filled the venue painted all in black.
Moodymann stepped in the place around 3:30 am, and if you couldn't see, you could tell because of his greeting with the very recognizable voice on the mic that diehard fans like me know from so many records of his. "What's up Vienna. Thanks for letting me share my environment with yallls" I go up to the booth and there he is, bandana covering his face with a backward baseball hat and also rocking a pair of headphones I had never seen anyone use in a DJ context… those little white ipod earphones!? Wow awesome is that? You're rocking a half a million dollar soundsystem with 500+ people and you're playing with Ipod headphones. Realer than real.
So, now that I know it's him I can focus again on dancing (and drinking the 10th Gin Tonic with the Vienna crew). Don't really know which was the first track he played but let me run you down a few of the most memorable ones. Anna from the Bebop Rodeo crew was the opening DJ and was telling me how nervous she was. Can't blame her I think I would have been pretty damn nervous myself heheh.
Al Green "Love & Happiness"
Takes a lot of b*lls to play a track like this in a packed club at 4am. It really does and I don't remember ever hearing this in a situation like this.
---
Hercules "7 Ways"
certified 1986 classic material from Chicago House legend Marshall Jefferson.
---
J Dilla "Workinonit"
Moodymann started playing a few hiphop records (even some DJ Honda!) in the first part of his set. Half the audience looked confused, the other half was losing their goddamn mind to be hearing this in a big club (Guess which half I was in)
---
Mike Dunn "Phreaky MF"
This was definitely one of the highlights. Most people recognized because of the Moodymann version of this track called "Freeki Mutha F cker" but nopes, it was actually Chicago's Mike Dunn aka MD X-Press. This one killed.
---
Gwen McRae "Keep The Fire Burning"
I think it's at this point that he took the mic and said something I'll never forget: "Hey man, i'm just playing the same records y'all got at home". This was pretty much one of the most humble things i've EVER heard coming from a DJ / performer. This means i'm not trying to impress you all and we are all here together vibing on this great music. Case in point, you can probably find this Gwen McRae for 1$ pretty much anywhere.
---
GQ "Disco Nights"
One more great 80's Boogie record that I had totally forgotten about. Definitely a roller disco anthem coming from a man who knows a thing or two about this kind of party. In case you didn't know Moodymann hosts a roller disco party called Soul Skate in Detroit.
---
SGHA "Love's Got Me High" (Terrence Parker)
Just when I thought I had enough he hits me with this one. Actually I was in the bathroom and heard the first few beats and had to runnnn to the dancefloor to make it in time for one of the most epic breakdowns in house history. This is definitely in my lifetime top 5 house records.
Oh, and at the end of the night I got to meet and talk to J Dilla's mom. I bought the new Dilla record called "Rebirth of Detroit" from Ma Dukes herself!! How dope is that?
All in all, a quiet little night in Vienna. 🙂
(Bonus picture of the Vienna boyz crew at 6am)