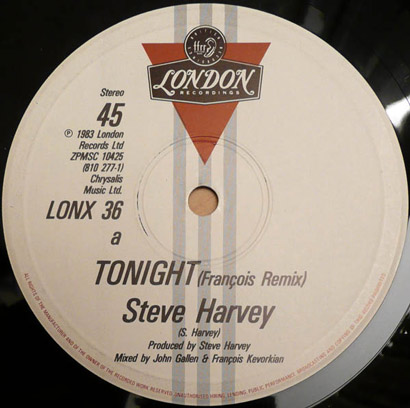 Forgotten Treasure: Steve Harvey "Tonight" (Francois K Remix) (1983)
Last night I came home after a long night of work and found a sweet new MIMS gem dug up by fellow disco homie Devon Eve. During the boogie breakdown I heard a guitar riff (4:02-4:09) that inspired a familiar-yet-mysterious melody in my head. The imaginary blend of both tracks sounded so promising, I just had to find that song and get to a mixer! Thankfully, after a few moments of hard thinking I was able to solve the puzzle: Steve Harvey (no, not the comedian).
Don't be too surprised if you don't recognize the name as he's only a released a few singles in the early 80s and early 90s, spending most of his time as a writer/producer. Due to the attraction of a Francois Kevorkian remix, I picked out this 12" on London Records a few years ago and have been stuck on the A side this whole time. Now that I've revisited the flip, I totally appreciate (and perhaps sometimes prefer) the powerfully funky dub found on "Something Special". Whatever your "gout du jour" maybe be, I'm sure you will enjoy both of these Forgotten Treasures.
Steve Harvey - Tonight (Francois K Remix) (1983)
---
Steve Harvey – Tonight (Francois K Remix)
"Something Special"
http://www.youtube.com/watch?v=rOtYVVTMMf8