The Ultimate Halloween Obscure Movie Marathon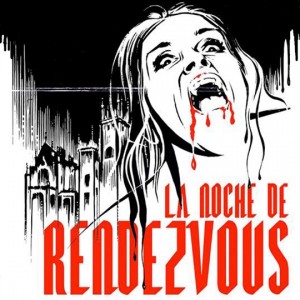 We wanted a great Halloween mix so we called RendezVous crew out of LA as they are some of the absolute best in the world when it comes to soundtracks, sound library grooves, global psychedelia, incredibly strange cosmic funk, and other sleazy listening oddities.
Not only did they deliver an outstanding mix called "La Noche De RendezVous" but they also put together the ultimate Halloween party movie marathon!
Killer suggestions by Jim Branscome, their resident film librarian.
Bloody Moon (1981, director Jess Franco)
Uncle Jess is a favorite of the Rendezvous crew. And what's a Halloween movie marathon without a slasher film? Combined the two and you get Bloody Moon, an out of control tour de force of blood, guts, sex, unauthorized Mickey Mouse usage, and trash.
---
Seven Women for Satan (1976, Michel Lemoine)
What happens when you mix The Fall of the House of Usher, The Most Dangerous Game, a demented piano score, a nude dance party, and a trash bag full of hallucinogens in a blender? You get the milkshake of insanity known as Seven Women for Satan. A fever dream that keeps cranking the temperature until your mind is totally melted.
---
Return of the Evil Dead (1973, Amando de Ossorio)
Who doesn't love the Blind Dead? Probably the coolest and most underrated living dead creatures in horror history. You can't go wrong with programming any of the four films in the series, but my personal favorite is the second one, Return of the Evil Dead. Lots of slow motion Templar Knights and gory carnage to satisfy even the most jaded horror fiend.
---
Pieces (1982, Juan Piquer Simon)
It's just not Halloween unless you watch at least one movie where Christopher George shows up to collect a paycheck. You have a few quality choices (City of the Living Dead, Graduation Day, Mortuary), but really, there's only one stone cold lock for this situation: Pieces. It's exactly what you think it is … a completely sleazy, violent, goofy, and deranged masterpiece. Waterbeds shall be ruined, limbs shall be dismembered, and logic shall be tossed out the window.
---
Messiah of Evil (1973, director William Huyck)
You need at least one slow burner to offset the chaos. This one gets under your skin and is a real occult creeper. Although little seen, Messiah of Evil has several set pieces that put most scary movies to shame (i.e. the super market and the movie theatre scenes). It's like Carnival of Souls meets The Wicker Man sprinkled with a vampirism.
---
Burial Ground: The Nights of Terror (1981, Andrea Bianchi)
As you reach that point of the night where sleep depravation kicks in, you need to end your movie marathon with something extraordinary. A film that 's an absolute shock to your senses and will make you question your reality. That my friends would be Burial Ground. Sure, it's an obvious cash in of Lucio Fulci's Zombie (which was already of cash in on Dawn of the Dead), but this movie has something no eyeball splinter or zombie vs. shark can match: Peter motherfucking Bark. Bark (a dwarf actor) plays an Oedipus son while pottery-faced ghouls grab lawn tools in order to feast upon the guests of a giant mansion. How anyone actually dies in this film is actually amazing, because Burial Ground hosts the SLOWEST fucking zombies in cinematic history. It's a weird one, but the film, like Peter Bark, has "bite."