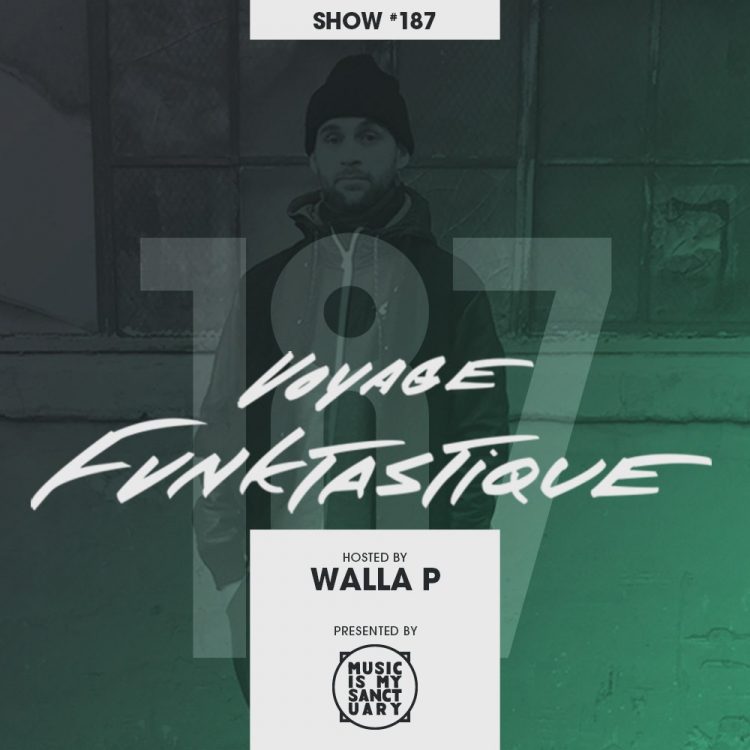 VOYAGE FUNKTASTIQUE SHOW #187 – Hosted by Walla P & Guest Mix by Dj Universe
For this week's show, new material from XL Middleton, E.Live, Giovanni Damico, Emcee Originate, and a guest mix Dj Universe (The Motor Booty Affair/Copenhagen), providing an all Danish Bogie/Funk/Disco mix.
Recorded & broadcasted live at CHOQ.ca
XL Middleton – What She Sounds Like (feat. I, Ced)
Jay Bishop – Two Fingers
Emcee Originate – 450 Ft. LEX (Prod. by Mofak)
B.rOCk x JayfOnk x MDWL – Hollywood BLVD
E.Live ft.Chesta Blake – I'll Have You Tonight
Giovanni Damico – Last Chance
Format-440 – Never Been Better
Narada Michael Walden – You Ought To Love Me
Oattes Van Schaik – She's So Divine
Reanna Coleman – You 're In My Pocket
Pike – Good Feelings (Original Mix)
Deeper Band – Escape
Rainie Brown – Night Mover
Tracy Weber – Sure Shot
Supa-Rap – Bills
E.Live – Funktown Nights
Take Three – This Good Good Feeling
DJ Universe's Guest Mix (you can purchase the mixtape via FB & IG) + explanatory article of his mix.
https://www.facebook.com/Unipaint84
https://www.instagram.com/dj_universe_84/
Storbyhjerte – 45 minutes of Danish 80's funk
14 Danish funk joints recorded between 1979 and 1985.
This mix has been on its way for a while. It's been about a decade since I started putting Danish funk joints into my sets. To begin with I neglected the niche because Denmark was simply never that funky a place during the 80's. Slowly but surely though, I came across more and more stuff qualifying itself. People who are familiar with Danish funk will know that there are a couple of obvious tracks missing. There are several explanations to this:
Firstly I tried, as far as possible, to use tracks with Danish vocals. Secondly, one of my frustrations with this sub genre is that a lot of musicians during this time flirted with black music, but not all of them seemed to be able to take it seriously. A result of that are a lot of silly lyrics, more or less unsuccessful attempts of rapping and a frequent use of a Danish favourite: The ironic distance. Basically the Danish music imitating trends from the other side of the pond often balanced on the line between cultural appreciation and cultural appropriation. Having said that, I'm positive that there are no bad intentions in this mix, and the fact that 1980 is almost 40 years away has to be taken into consideration.
Lastly the constellation of tracks in the mix is a result of what felt right and fun putting together. As the idea of collecting tracks for a second mix emerged, I started accepting not being able to fit the last tracks in the mix and decided to just have fun with these 14 tracks.
Playlist:
Michael Brenner – A-kassens Bedste Kunde
This is the B-side from Michael Brenner's 1984 12" Stem På Mig. The title translates – very roughly – as "the best costumer of the unemployment fund". Based on Brenner and producer Jan Eliasson's take on the Good Times bassline it describes the life of a young man on unemployment benefits. The lyrics are funny to me because it's an anthem for so many people I know. In Denmark, when you become a member of the "A-kasse", you are guaranteed an amount of regular income if you become unemployed. It's meant to give you time to look for the right job, but for a lot of people it's used as a hack to be able to maintain a laissez faire position in society while partying a lot and spending time doing what you really love. While putting their names up at night was the motivation for the graffiti writers I grew up with, Brenner's motivation for frequenting the unemployment lines seems to have been laying down his pioneering Danish disco rhymes on Eliasson's fat baselines.
Lookout – Let It Happen
From the self-entitled LP from 1986. There are a lot of familiar names on this record. Both singer/bass player Jon Bruland and saxophonist/flutist Niels Harrit were part of Danish 80's funk big band Blast. On Lookout the two are accountable for much of the production and writing, and on this track Jon is singing the lead vocals written by Niels, with Niels daughters Gry and Tone on backing vocals. Actually I'm not that into neither the lyrics nor the vocals and to me the instrumental is a bit generic, but it does represent a sound that I think deserves a spot on here. It feels like the trademark super-loud-big-band-funk by Blast is closer than ever to finding the right balance on Let It Happen. Harrit would go on to become a professor on the university of Copenhagen with a career spanning over 40 years and today he is very active with the "Architects and Engineers for 9/11 Truth" – a worldwide group of architects and engineers arguing that the Twin Towers were brought down by a controlled demolition.
Shu-Bi-Dua – Rund Funk
If you've been travelling Europe digging, chances are you've seen a Shu-Bi-Dua cover or two. I've heard stories of diggers stumbling on these in Japan! The group is a staple in Danish music, with a career in the pop business spanning 4 decades. None of their releases are as funky as the Rund Funk 12" though. The title of the track is a play on the German word Rundfunk, meaning broadcast. Directly translated to Danish that means "Round Funk" and I think there are no other means to this joint than getting funky. The lyrics are about the queen of the night and the prince of Norway. The two meet under the strobe light and wild out while being friends with all animals in Norway, drinking honey and staying up too late. While all this is going on, God is looking down on earth, concluding that a lot of fucked up shit is going on down there – but the music is all right though. I think a major factor on this joint is the outside help the band pulled in: strong performances by singer Mona Larsen, saxophonists Anders Gaardmand and Jens Haack and Kenneth Knudsen on Moog. Being from 1979 it disqualifies from the 80's funk dogma but I had to put it on here.
Michael Brenner – Rap-sodi
This might be the fattest bass I've come across in terms of Danish funk. It's the first Danish joint I started putting in my boogie sets. Most of the time I would play my own instrumental edit leaving out all vocal besides Brenner's joyful "Aaaaaah Ja". This is some of the first Danish rap recorded and a lot of heads probably know the song because Danish hip-hop group Kongehuset sampled it. The lyrics are about a regular Joe called Kjeld. He's working in the supermarket during the week, but turns into a beast in the Copenhagen nightlife during weekends. Kjeld mixes his drinks with 1 part water and 7 parts booze and charms the shit out of the ladies. Once again Jan Eliasson is on the production.
Anne Linnet Band – Måne, Sol & Stjerner
Anne Linnet is a household name in Denmark: She started out with then-husband Holger Laumann in jazz-rock group Tears and went on to form Shit and Chanel, an all female band active from 1974 -80. Their song "Smuk og Dejlig" would be tied to the feminist movement and I think most Danish children that grew up in the 70's and 80's have been strongly exposed to it. After Shit & Chanel she founded Anne Linnet Band and finally, in 1983, the new wave band Anne Linnet & Marquis De Sade. On this Astronomical love joint from 1981 Lis Sørensen and Sanne Salamonsen accompany Anne in what is arguable one of the strongest vocalist formations in Danish popular music. The O.G. horn section consists of Jan Glæsel on Trumpet and Anne's former husband Holger on saxophone. The legendary Danish musician Sebastian is singing choir on the chorus!
Buzstop – Linedanser
This is where a big obrigadu to the boss Ed Motta is in its place! This is my favourite Danish funk group and I know of them because Ed Motta put their slow jam "I Sort Og Hvidt" on one of his AOR mix tapes. No sign of affectation or ironic distance here. Buzstop are simply just musicians playing well and writing lyrics about honest subjects of everyday life. In this case, the lyrics are about overcoming the fear of performance anxiety, seen through the eyes of a tightrope dancer. Buzstop also has what's arguably the hardest horn section of any Danish funk group from this time and they're in full effect on this joint too: Ole Hansen on trumpet, Kenneth Agerholm on trombone and Bob Jakobsen on saxophone. Tina Schæfer is on lead vocals, Per Nielsen on guitar, Thomas Risell on base, Kaj Bojsen-Møller on drums, Rudi Lopdrup on percussion and Ole Arnfred on keyboards.
Kasper Winding – Chok
To Danish people Kasper Winding needs no further introduction. He is the son of Thomas Winding, a writer and television producer whose body of work has had a tremendous impact on generations of children in Denmark, and the Winding family name seems to be omnipresent in Danish popular culture. Chok is taken from his 1980 album Kick and features Michael Elo on vocals, Kenneth Knudsen on Roland Jupiter and Bob Malach on Saxophone. Winding had a helping hand from Spanish guitarist Ray Gomez as well, a frequent collaborator throughout the album. The lyrics are written by Thomas Winding and are about a guy being dumped by his girl. Luckily he just brought a bicycle with 16 gears, so you know… He's biking away from her. He still misses her though and he's in a state of shock because she left him. I have mixed feelings about this song: while parts of it sounds like something commandant Lassard's police academy cadets would play at a ball, I love how the bass, drums and keys come together to form a progressive base for Winding and Elo's duet on the hook.
Anne Linnet & Marquis De Sade – Hvor Du Er
Another one from Anne Linnet, this time in the form of Anne Linnet & Marquis De Sade with a joint from the groups second LP Hvid Magi. The constellation of the group on this album was the legendary Moussa Diallo on bass, Kent Hansen on drums, Per Møller and Pete Glennister on guitar, Donna Cadogan and Sanne Salamonsen on backing vocals and Frank Stangerup, Lynton Naiff and Linnet herself on keys and synthesizers. The group, and Linnet in particular, became known in the 80's for lyrics about libertine sexuality and she became an important voice in the public debate speaking openly about her sexuality. "Hvor Du Er" translates as"Where You Are" and like many of Linnet's songs it revolves around love and relationships.
1st Avenue – Rap Road
Quite a lot of big Danish musicians on this 7": 1st Avenue consisted of Jørgen Thorup, Roberto Johansson, Caroline Henderson and Lanni Moe. Henderson has since made herself noticed as a vocalist in Ray Dee Ohh, one of the most successful Danish pop groups of the late 80's, before eventually turning to jazz in the 00's. Lanni Moe came from another Danish funk group, Skunk Funk, which he had with his sisters Lupe and Lei Moe, and is the uncle of contemporary Danish pop singer Joey Moe. The Shi-Bi-Dua boys Michael Hardinger and Michael Bundesen were invited on backing vocals but are also credited for production under the aliases George Rap and Robert Road. Never dug the vocals on this track, hence my choice to put the instrumental in the mix.
Michael Brenner Band – Street Music
Michael Brenner band is a continuation of the rock band Wall. They regrouped as Michael Brenner Band in 1978 and recorded the debut LP under this constellation in 1979, but due to contract complications it didn't come out until 1981. Bjarne Duncan on drums, Leif Tømmer on bass, Allan Andersen on guitar and Brenner on vocals. Though I don't know the story behind the song I'm imagining the band visiting the U.S., falling in love with street music and penning this love letter upon their return to Denmark. I guess this is one of very few Danish funk joints qualifying for the street funk crate.
Corona – Rip Og Rap Og Rup Og Stub
Michael Jørvang on vocals, Casper Kofod on keyboards, Carsten Wind on guitar, Jesper Bo Nielsen on drums, Martin Klitgaard on percussion and Thomas Ovesen on base. This album seems to me like one big jam session. There are very funky moments on there, but they rarely last a whole track. Lyrics were definitely not a defining factor on this album: This track is about Huey, Dewey and Louie falling into a lake, Donald Duck getting shipwrecked and Chip and Dale playing tennis. This is an example of my frustration with a lot of Danish funk: It feels like many of the artist recording black music in Denmark at that time had to have some ironic distance to it. As if they knew that they didn't really get it and had to be able to say "Oh that? Yeah, we just did that for the hell of it, it's not to be taken seriously…" I mainly put this one on the tape because of Casper Kofod's smooth synth solo.
Buzstop – Stoppestedet
From the groups self entitled first LP from 1981. The lead vocal is by male vocalist Per Nielsen. It's a joyful track about holding out through the stress of big city life. Per is singing to us as if he was the driver of the bus line 3, driving back and forth between Copenhagen's western and eastern outskirts all day long, honking the horn at the pretty girls. Stoppestedet is Danish for bus stop and it acts in the lyrics as a metaphor for finally getting off. I love Ole Arnfred's performance on the keys and I think this is an example of Buzstop at it's best, being one of relatively few Danish funk groups from this period that I think maintain an international level.
Buzstop – Storbyhjertet
Another Buzstop banger. This joint from their second album, Piccolo, and has always been one of my preferred Danish weapons of choice when playing clubs. I named the entire mix after this song and lyrically it's the track on here that I can relate to the most. It features beautiful lead vocals by Tina Schæfer and a slamming synth solo by Ole Arnfred. The title translates "The Big City Heart" and the song is about the tolls of big city life. Weather you're a thug, prostitute, DJ, cop, graffiti writer or stock broker this could be your anthem. Tina's chorus is a beautiful reminder to all people dealing with stress and pressure, that the flame that burns twice as strong burns half as long.
UPS – Gi' Os En Takt
This is the only release UPS ever made and I don't know much about the group. The dialect of the vocalists gives a clear indication that the single was recorded in Jylland (that's the big chunk of Denmark connected to the rest of Europe, mainly consisting of farmland). The group hails from Århus, Denmark's second biggest city, and consists of siblings Mik (lyrics, keyboards, production) and Pernille Aidt (vocals), Bo Astrup (base and production), Michael Frank (drums), Jens Bille (guitar) and Henrik Pedersen (drums). I'm guessing Rock Steady Crew's Hey You, which was released about half a year earlier, was an inspiration for this joint. The title translates "Give Us A Beat" and the lyrics are simply about the group wanting a beat so that they can rap.
Anne Linnet & Marquis De Sade – Blod
Another track from the group's 1985 album Hvid Magi. Blod is Danish for blood and this is indeed a bloody love song. With an opening line that translates something like "I'm gonna rip your heart out, but I'm trading it with mine" Anne resonates on the powerful force of love. Her reckless approach to the subject and her style of singing almost reminds me of German singer Nina Hagen. While I love the first part of the song, after the hook it turns into a full-scale 80's rock tune, which is why only such a short part of it is in the mix.
Skyline – Gi'r Dig Alt
Probably my favourite Danish funk track. Ever since I first heard this LP I've been intrigued about the story of this group from Nørresundby, a town in northern Jylland with about 3.000 inhabitants. I'm imagining that the view of Ålborg, Denmark's 4th biggest city, across the strait from their hometown gave the group their name and maybe the idea for the cover as well. The band doesn't look half as hip as most musicians from this time and the thank you section comes complete with props to the local grill for providing junk food to the band. I love Helle Jørgensen's vocals, the duet with Henrik Andersen (who's on the keyboard too) and the filthy bass line provided by Ivan Thomsen. Dope drums by Michael Friis and Finn Andersen on guitar.
Download :