Win A Copy Of Magic In Threes' "Finnish Funk / Shot Through The Grease"
Meet Magic In Threes – one of Nashville's best kept secrets when it comes to stoney Soul grooves that sound straight from the 1970s.
It would come at no surprise to find one of their various 7-inches tucked away in a 45 box simply marked "Soul" in sharpie at an unassuming record store, hidden amongst a goldmine of other library gems and the likes. The thing that would catch your attention however would be the date of its release – 2018. After playing it on the shop's turntable, you might begin to think the date printed contains a typo. The recording style, the sound, the instruments, they all sound from a time that has come and gone. This is where Magic In Threes mark their territory.
Who is Magic In Threes?
Dave Singleton: Magic In Threes is an instrumental project Nick DeVan and I started along with our friend and bandmate Mark Spain in 2009 or so. We had just started getting into these slow simmering, low key library recordings that captured our imagination and had a vibe we wanted to explore musically. We'd been writing, recording and performing as "DeRobert and the Half-Truths" for a couple years at that point and wanted to stretch our legs out to make some more mellow, smoked out sounding music. The group now is exclusively a studio project, we pull in players from the Half-Truths, the Coolin' System, or other groups around Nashville. There's a revolving door of musicians from the extended G.E.D. Soul Records family on the recordings.
What was your first jam session like, and what made you want to play together?
Nick DeVan: The first sessions I remember were at our home studio in East Nashville. We had our friend's Rhodes and did some jamming as a three piece. Mark Spain was the sax player for DeRobert and the Half-Truths, he's a super chill guy. He played the Rhodes, Dave on bass, me on drums. We tracked to a 4 track cassette. The song 'Rancho Relaxo' came directly from some of those first jams. Then we'd dump the cassette to the 16 track machine and overdub guitar and horns.
What goes in to your recording process?
Dave Singleton: One of us will bring in an idea in various forms of completion and we flesh it out from there. Nick and I have been working in that dynamic for a long time and it seems like we can get a pretty good idea of where the other is heading musically. Nick engineers everything, so we'll start out with bass and drums, then tack on guitars, synths or organ, and percussion. Then we'll come up with horn parts, Nick will chart them out, then we bring the guys in to track. If there's nothing else to add or if we feel like the song is where it needs to be, we mix it and send off to Frank Reynolds for mastering.
How did you link up with KingUnderground?
Nick DeVan: KingUnderground reached out to us about doing a 45. We had been doing all our own releases on G.E.D. Soul Records but a lot of material never made it to wax. We were happy to get a couple gems on 45 thanks to KU.
Back when you were releasing one track a day, how long did it take to write, record, and have each song ready to be released?
Dave Singleton: In order to keep up with recording and releasing a song each week, while keeping a day job, we'd try to come in with a few song ideas each week and kind of build up a cushion of songs. On a Monday we'd track drums and bass for three songs, then layer in the guitars and whatever else. The horn parts were tricky because the players schedules were sometimes hard to coordinate. Happy to say that we didn't miss a single week's release
Do you plan to collaborate with any features, possibly for a full length album?
Nick DeVan: I would love to do a full length project with an artist named Tujarzz out of Dallas. We collaborated on a couple tracks and I really liked it. I'd also really like to find a good french horn player to track on some upcoming Magic in Threes arrangements
What can we expect next from MI3?
Dave Singleton: More 7″ records and possibly a LP in the near future.
Magic In Threes' "Finnish Funk / Shot Through The Grease" releases February 9, 2018, on KingUnderground Records.
(Contest runs until February 16, 2018)

Winners will be announced and contacted on February 16, 2018, good luck!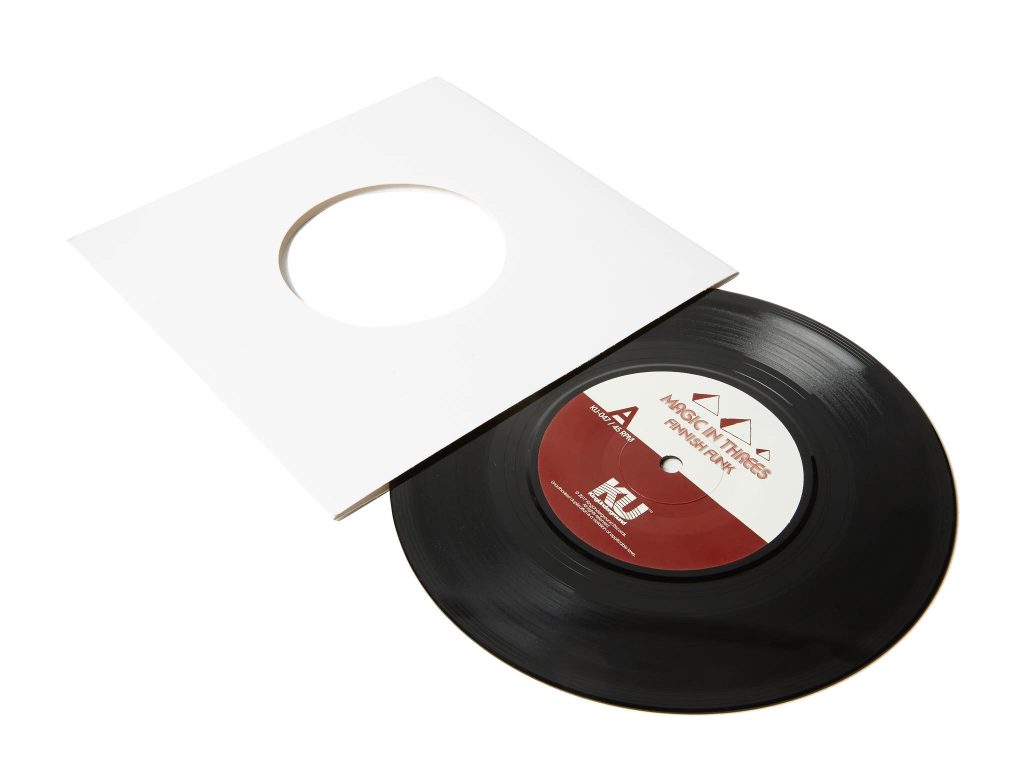 ---
Follow: