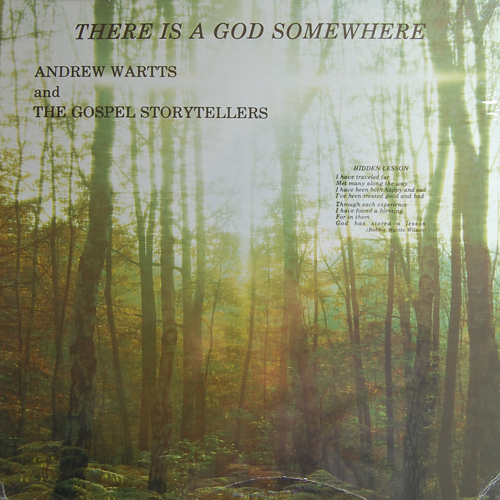 Forgotten Treasure : Andre Waarts & the Gospel Storytellers "There is a God somewhere" (1982)
Music can elevate one to higher grounds and literally lift spirits. Gospel is the foundation for RnB, Soul & Funk as many religious devotees used their belief to inspire their creation whilst simultaneously using music to escape the regimental nature of church. Such was the case with Andrew Waarts, who grew up in the same St-Louis congregation as music legend Donny Hathaway.
Waarts would gather solid musicians (including the stellar guitarist Earl Wright who worked with Oliver Sain) and lay down a truly masterful album in the early 80s on gospel imprint Champ. With its incredibly deep, yet funky, arrangements, this record would become the Holy Grail (literally) of Gospel Funk collectors.
Oddly enough, the record sounds almost behind its time, given the way it was recorded and the old soul nature of Waarts lyrics and vocal delivery. The title track blows any listener's mind instantly as the melancholic interplay between guitar and piano fuse with slow paced drumming allows for the hopeful message of the song to shine through. Similarly paced, Rich Man Poor Man is brought to life by gorgeous humming and mystique guitar riffs which reminds me of an intimate Hathaway performance. In a completely different register Peter and John is a straight funk track with a tough intro and James Brownesque melody.
The power of the songwriting combined to the soothing nature of the arrangements is what makes this record so unique and a completely incredible experience. I was lucky enough to get a sealed copy of the original release when I unfortunately discovered the whole pressing run had a horrendous hiss throughout the record. However, in a beautifl twist of events, the album has been fully remastered and repressed by Waarts himself, so not supporting the artist and adding this gem to your colleciton would be a cardinal sin!
Buy Album