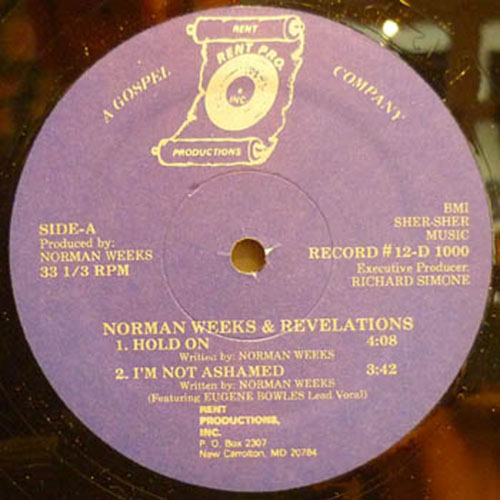 Forgotten Treasure: Norman Weeks & Revelations "Hold On" (Rent Productions)
This amazing slice of disco-funk with a gospel touch has been a favorite of mine for a number of years now. I love playing this one in the dying moments of a club night filled with beautiful music and people.
Since I played this one last night at our monthly Music Is My Sanctuary night at Bleury in Montreal it's still fresh on my mind and wanted to share it with you.
This gem by Norman Weeks checks all of the boxes of the definition of a Forgotten Treasure. An overlooked record released on Rent Productions, an obscure label which has only 4 releases in their short history by an even more unrecognized artist who only released one 12″ in his career. There is something quite fascinating about artists who only managed to release one piece of music, albeit one as amazing as this…
"Hold On" is a 14 minute inspirational and feel-good piece of dance-floor music that has aged wonderfully. "You don't need no dope, all you need is hope. Just hold onnnnn!"
Weeks wrote and produced the track on top of singing lead vocals and playing keyboards. He also apparently plays pretty much every instrument such as the trombone, saxophone, flute, piccolo but his main love is piano. (Note: Norman Weeks does have a few smaller releases which don't appear on Discogs or AllMusic)
In its original form this is a pretty tough record to find and fetches around 200-300$ but thankfully it was reissued wonderfully by Sonar Kollektiv a few years ago. You can even scoop it up on Itunes… there's good digging on there in case you forgot!