DJR 400 Portable Rotary Mixer from E&S
If money was no object this year, my Christmas gift from me to me would be this bad boy.
A rotary mixer hand made in France. The two main features of this E&S DJR 400 Portable Rotary Mixer are: power & portability. Its reputation has been on the rise, so much that the custom, hand-assembled mixer comes with a 6 week waiting time…
I played with Floating Points a couple of months ago and when I spoke to him he said he was bringing his mixer to the gig. The man lugs his mixer halfway around the world! I then looked it up online and from the pictures I really couldn't tell how small it was. I was thinking it was like carrying one of those classic RANE mixers around but I was very surprised to see how small the DJR 400 it was.
But don't take it from me. Deep House legend Kerri Chandler describes the DJR 400 mixer as "just like driving a portable lamborghini"
And then, I was thrown on my ass as soon as we plugged it in for sound check. We were running two mixers side by side and the traditional Pioneer DJM was at 9 and the DJR from E&S was at 2. I had never heard that venue sound so good.
So, well… if you have 3000$ floating around feel free to buy me one. Please?
from E&S: DJR400 is a very new concept of "travel" mixer, the idea is to be able to carry it with you anywhere, very easy to plug with it's back connections, it includes all the specifications of the DJR100D in a 4 lines portable mixer! You don't have to « rack » it or do a long soundcheck you can just plug it in a system and play, controling the room's system with the very powerfull integrated cross over.
BUY / ORDER
DJR 400 Technical Specifications
Dimensions: 280mm x 210mm x 70mm
Bandwidth – 1db: 10-25 000 Hz
Switchable inputs 1 & 3: phono/line
Input 2: phono
Input 4: line
Integrated crossover isolator (10 – 300 Hz / 300 – 3000 Hz / 3000- 25000 HZ)
Master and booth: RCA and XLR balanced
Output level (XLR) up to +22 dBm
Effect loop on master and booth output
PFL: pushbutton mixable monitor to phones
External power suply
ALPS potentiometer
Total weight: 2,8 Kg
Option: Send effect on each channel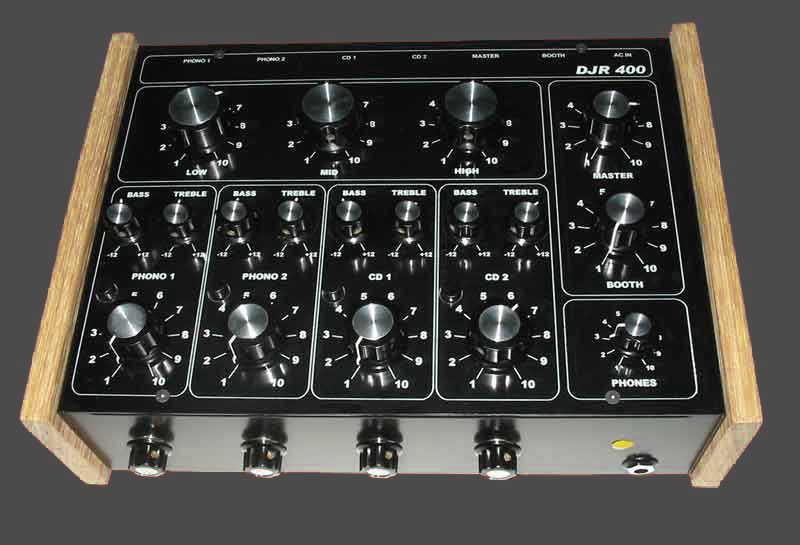 #djr400 #djmixer by simonfknhndsm #socialreykjavik pic.twitter.com/5hP280OquU

— social Reykjavik (@Socialreykjavik) March 12, 2015
E&S DJR400で思い出したけどTheo Parrishのこの動画すごく好き http://t.co/EgcR7I8h49

— Xi/Musicarus (@Xi_DJ) November 6, 2014
Since that day, my DJR 400 became my best friend… https://t.co/vTD8ChJD7Y http://t.co/FYSzZoOstZ

— Fukiflex (@FukiFlex) October 26, 2014