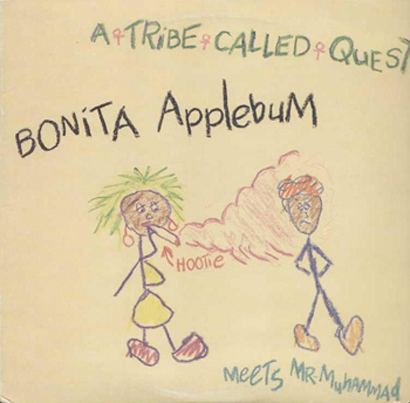 Forgotten Treasure: A Tribe Called Quest "Bonita Applebum" (1990)
Well actually I don't really think I can say that 'Bonita Applebum' is forgotten treasure cause anyone who's anyone in the hip-hop world has this track on replay every couple of months but after going to Phife's show in Montreal this past Sunday and seeing the must-see documentary Beats, Rhymes & Life: The Travels of A Tribe Called Quest, I just had to pull out this classic.
Now there's no doubt that People's Instinctive Travels and the Paths of Rhythm was just busting with treasures but 'Bonita Applebum' is the track that really put ATCQ on the map for most, including myself. 'Do I love you? Do I lust for you? Am I sinner because I do the two?' is a lyric that is permanently engraved in my brain and always replays with Q-tip's sly boy voice. As a teen, Q-tip's voice defined my love for ATCQ (who am I kidding defined my love for Hip-Hop) it was like every rhyme he spit was for me personally and that we had a particular intimacy called Hip-Hop. Over the years I gained a higher appreciation for the tribe's complexity and still keep finding more substance within this masterpiece. Everything from the innovated mixing of the samples to the beat to the flirtyness to the empowerment to the sensuality to the pioneer flow makes this track absolutely unforgettable.
In honor of my rekindled love for ATCQ ignited by Phife on Sunday I want to send this one out to all my favorite ladies and to all the wonderful fellas out there who made me feel like their Bonita Applebum
---
"Bonita Applebum" Samples