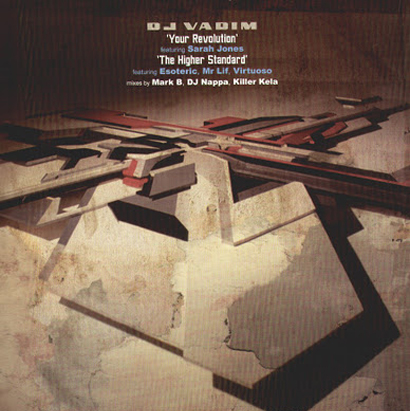 Forgotten Treasure: Dj Vadim "Your Revolution" feat. Sarah Jones (1999)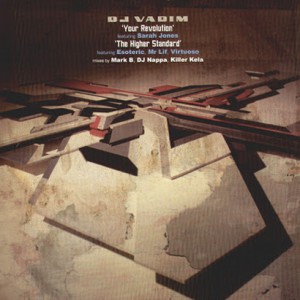 I'm playing with one of my heroes next weekend (event details here), none other than Dj Vadim one of my favorite producers and DJs for the past 10 years. The man has been so prolific and is constantly pushing his sound in new directions.
I'm going to do a few "forgotten treasure" picks from his incredibly dope back catalogue. I figured i'd start with the first song that caught my ear and never left my collection since. "Your Revolution" came out in 1999 on the LP called "USSR : Life from the other side" on Ninja Tune.
"Your Revolution" is such a beautiful mixture of a really smooth back-beat with great spoken word by Sarah Jones, obviously inspired from Gil Scott-Heron's "The Revolution Will Not Be Televised". There are a couple versions of this track, but this one is by far my favorite.

Dj Vadim - Your Revolution feat. Sarah Jones

Lyrics:
Yeah yeah yeah yeah
This goes out to all the women and men
From New York to London
L.A. to Tokyo
Struggling to keep their self-respect
In this climate of misogyny
And money worship
And mass production of hip hop's illegitimate child (hip hop)
And this especially goes out to Gillis Scott Herring
Friend, living legend, and proto-rapper who wrote
The revolution will not be televised
Much respect
Your revolution will not happen between these thighs
Your revolution will not happen between these thighs
Your revolution will not happen between these thighs
Not happen between these thighs
Not happen between these thighs
The real revolution ain't about booty size
The Versaces you buys
Or the Lexus you drives
And though we've lost Biggie Smalls
Baby, your notorious revolution
Will never allow you to lace no lyrical douche in my bush
Your revolution will not be you killing me softly with Fugees
Your revolution ain't gonna knock me up without no ring
And produce little future emcees
Because that revolution will not happen between these thighs
Your revolution will not find me in the backseat of a jeep
With LL hard as hell
You know, doin' it and doin' it and doin' it well
You know, doin' it and doin' it and doin' it well (nah come on now)
Your revolution will not be you smackin' it up
Flippin' it, or rubbin' it down
Nor will it take you downtown or humpin' around
Because that revolution will not happen between these thighs
Your revolution will not have me singing
"Ain't no nigga like the one I got"
And your revolution will not be you sending me for no drip, drip VD
shot
And your revolution will not involve me feelin' your nature rise
Or helping you fantasize
Because that revolution will not happen between these thighs
No no, not between these thighs
Oh, my Jamaican brother, your revolution will not make you feel
Bombastic and really fantastic
And have you groping in the dark for that rubber wrapped in plastic
You will not be touching your lips to my triple dip of french
vanilla, butter pecan, chocolate deluxe
Or having Akinyele's dream, (mm hmm)
A 6-foot blowjob machine (mm hmm)
You want to subjugate your queen? (uh-huh)
Think I'm a put it in my mouth just cuz you made a few bucks?
Please brother please
Your revolution will not be me tossing my weave
And making me believe I'm some caviar-eating ghetto mafia clown
Or me giving up my behind, just so I can get signed
And maybe having somebody else write my rhymes
I'm Sarah Jones, not Foxy Brown
You know I'm Sarah Jones, not Foxy Brown
Your revolution makes me wonder, where could we go
If we could drop the empty pursuit of props and ego
We'd revolt back to our Roots, use a little Common Sense
On a quest to make love De La Soul, no pretense
But your revolution will not be you flexing your little sex and status
To express what you feel
Your revolution will not happen between these thighs
Will not happen between these thighs
Will not be you shaking and me (*yawn*) faking
Between these thighs
Because the real revolution
That's right I said the real revolution
You know I'm talking about the revolution
When it comes, it's gonna be real
It's gonna be real
It's gonna be real
When it finally comes
When it finally comes
It's gonna be real, yeah yeah